LibreOffice released version 4.0 of its office productivity suite a few days ago and early reviews and feedback point to a solid release.
LibreOffice is the free and open source equivalent to Microsoft Office. Unlike Microsoft Office, which costs as much as P10,995 for a single license under the Home and Small Business edition, LibreOffice is free.
It is, as advocates are wont to say, free as in beer and free as in speech, meaning it costs nothing and does not come with license restrictions.
The LibreOffice suite of applications includes Writer (for word processing, the equivalent of Word), Impress (for presentations, think PowerPoint), Calc (a spreadsheet program similar to Excel), Math (a program for dealing with mathematical formulas and causing nose bleed), Draw (a drawing and diagramming tool similar to Visio), and Base (a database program similar to Microsoft Access).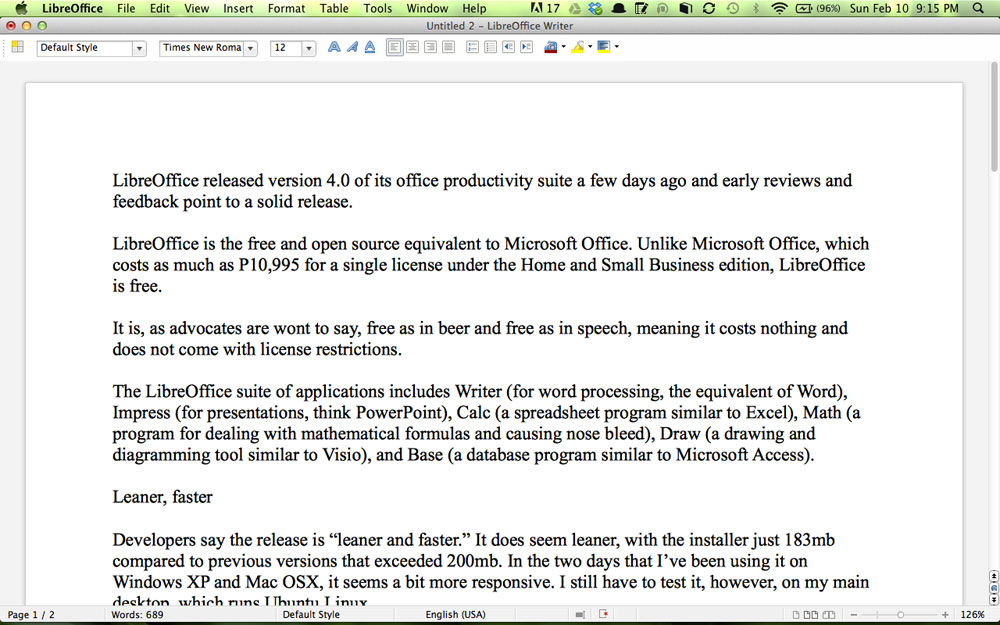 Leaner, faster
Developers say the release is "leaner and faster." It does seem leaner, with the installer just 183mb compared to previous versions that exceeded 200mb. In the two days that I've been using it on Windows XP and Mac OSX, it seems a bit more responsive. I still have to test it, however, on my main desktop, which runs Ubuntu Linux.
The new version, according to various reports, contain 10,000 changes in code by more than 500 contributors.
Among the major changes that come with the recent release is compatibility with content management systems (CMS) like Microsoft Sharepoint, Alfresco and Nuxeo using the Content Management Interoperability Services (CMIS) open standard. According to an IDG News Service report, the new version of LibreOffice will allow you to "check documents in and out" of enterprise content mangement (ECM) systems from the application itself.
Another key improvement is better interoperability with documents that come in DOCX and RTF formats.
The new LibreOffice version also allows you to customize its interface using Firefox Personas, which are themes you can use to change the look of your browser. With the new feature, you can change the visual appearance of LibreOffice by choosing a design at http://getpersonas.com, copying the design's web address and setting the office suite to use it in Tools > Option > Appearance > Personalization.
Presentation remote control via Android app
Another exciting addition to the suite is the addition of a presentation remote control app for Android. With the LibreOffice Impress Remote, you can use your Android phone to control your slideshow presentation via Bluetooth. You can view slide previews and speaker notes on your phone. The feature, however, currently only works in Linux but developers said other platforms will be included in upcoming versions.
I've been using the software and its various incarnations for close to 13 years now — from StarOffice to OpenOffice to LibreOffice and the software suite has really gone a long way to become a serious competitor to Microsoft Office. When I first used it, many people I know derided the software as a poor copy of Office that had no future.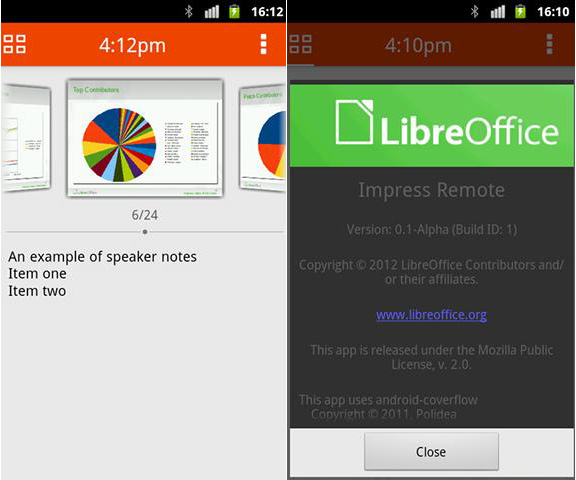 But open source development fueled continuous improvements. LibreOffice is released under an open source license, a license that allows its users to run it anyway they want, share the program, see how it works (meaning source code is available) and improve it.
Today, I can't think of a reason to use Microsoft Office. I've been told that there are some esoteric accounting functions you could only do with Excel and not with Calc but I never got around to having someone point this out for me.
My go-to office suite is still Google Drive. It fits my need for word processing and some spreadsheets work and has the advantage of being always "there" out in the cloud just as long as you have Internet connection. You don't have to worry which drive you saved the file in, it's just "there" in the digital ether.
But for working offline, LibreOffice is my go-to office application. It more than fits my need as a blogger, start-up co-founder and journalist. I don't see why one has to pay thousands of pesos or be kept up at night by the guilt of piracy (or not) for using Microsoft Office.
Max is a journalist and blogger based in Cebu. He has written and edited for such publications as The Freeman, The Independent Post, Today, Sun.Star Cebu, Cebu Daily News, Philstar Life, and Rappler.
He is also a mobile app and web developer and co-founded InnoPub Media with his wife Marlen.