A SYSTEM that allows homeowners to monitor and control lights and electrical appliances in their homes from anywhere via mobile technology won the 9th SWEEP Innovation and Excellence Awards last Thursday in Dusit Hotel in Makati City.
Colegio De San Juan Letran's SMS.AWT: Switching and Monitoring System Using Android in Wireless Technology was picked the best among the 10 finalists that made it to the finals of the nationwide search for student applications with the theme "Technology in Nation-Building."
The student team, led by 5th year computer engineering student Frances Marie Kagahastian, won P500,000 in cash and an equivalent amount in grants for the school. The team won an additional P50,000 for the Ericsson Networked Society Award.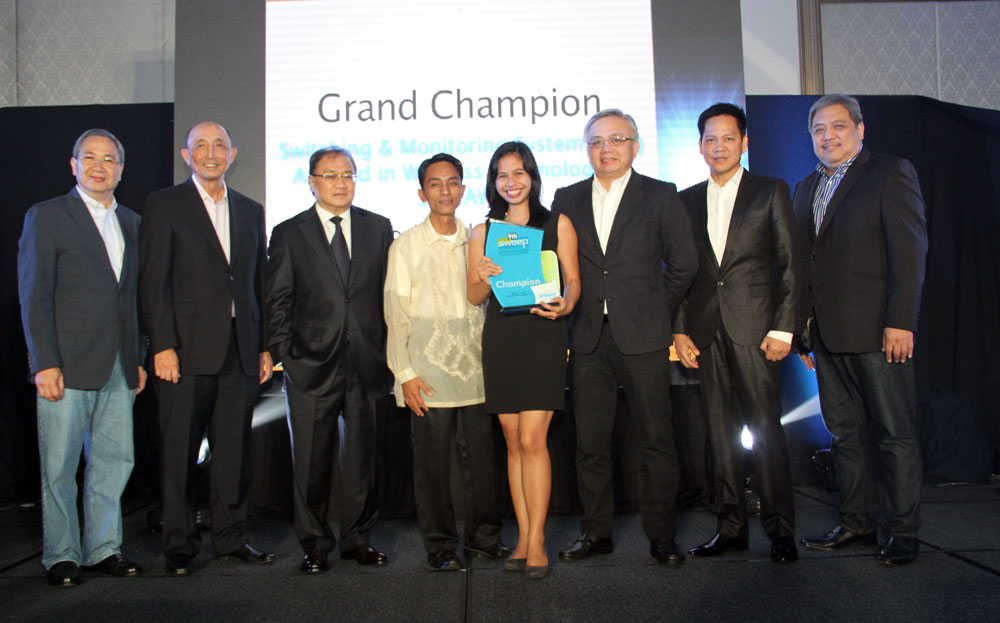 Kagahastian, who said her dream was only to be featured in a tarpaulin banner in their school, said she was overwhelmed by the victory. It was the first time her school joined the contest.
She said she was so nervous during the presentation. She failed the first time she demonstrated turning on the lights via text message — with judges ribbing her by asking whether she was using a Globe line inside the Smart Telecommunications Inc. tower. It took her some time to figure out that her team failed to input the destination mobile number in her demo system. It worked in her next try.
Ready for deployment
Kagahastian said the system that they developed is ready for deployment and can be set up in a home for P30,000. She will meet with Smart officials again this week to figure out the next steps for her project.
Tarlac State University's Smart H.E.A.D or Helmet Engineered for Accidents and Disasters was named 1st runner up. The team led by Ranier Rivera won P200,000 in cash and an equivalent amount in grants for the school. Their project involves a system with a helmet that facilitates rescue via reporting of location of an accident through global positioning system (GPS). Rivera said their project was inspired by a real life event: the death of a friend of their former mentor in a motorcycle accident at night in a remote location in their province.
De La Salle Lipa's Systematic Market Application for Real-Time Trading was named 2nd runner up and won P150,000 in cash for the student team and an equivalent amount in grants for the school. The system allows people to buy groceries on their phone via an Android application. The buyer can then pick up the groceries later from the store or have it delivered. The app won an additional P100,000 as Best Mobile Application from the Smart Developers' Network.
Business case
IdeaSpace Foundation handed a Best Business Case award and P100,000 to the University of Southeastern Philippines for Wordify, a phone application that processes images of words and translates these into various languages. According to the student team that created the prototype, the app does not need Internet connection to translate words. During the demo, they were able to translate "hello" into Korean, English and Chinese. The team said they are still working on expanding the database of words and phrases.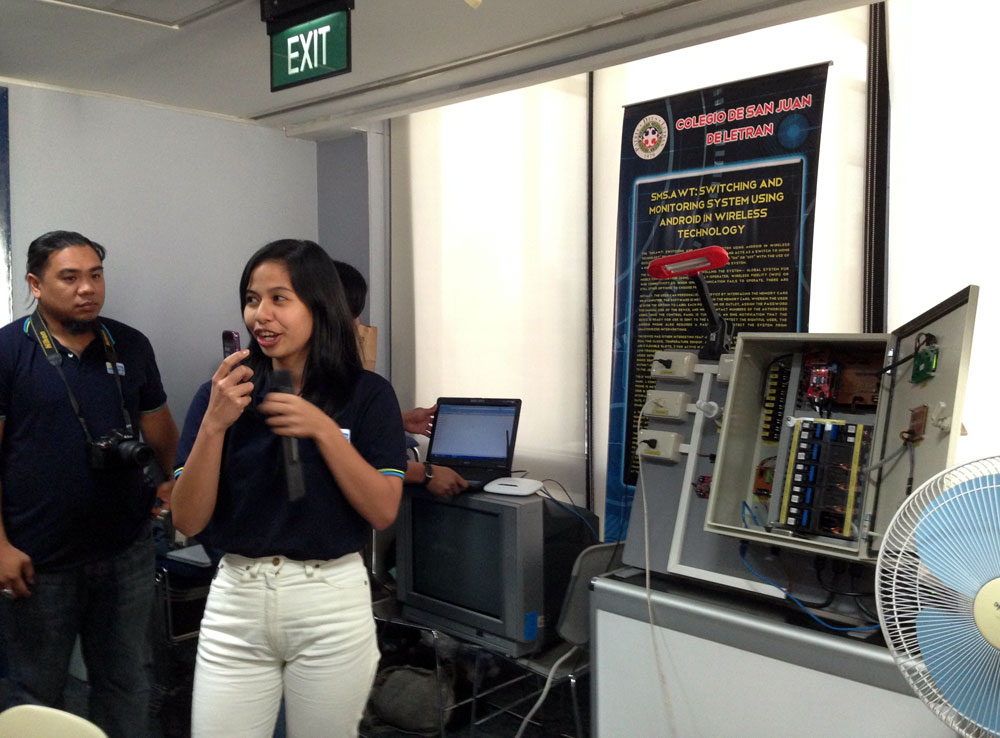 Organizers also announced an on-the-spot award from Voyager, Inc., a new Smart subsidiary that focuses on innovations outside the company's core business. They gave P100,000 to the Ateneo de Manila University team behind Botika-On-The-Go, a mobile phone application that integrates medicine inventory, database on drugs information and drug stores directory with map integration.
IdeaSpace Foundation president Earl Valencia said the submissions by students show a shift toward mobile applications interacting with electronic systems. "I think more and more that's where the world is coming to – that the phone is an enabler for a new experience."
PLDT and Smart technology head Rolando Peña, who started the Smart Wireless Engineering Education Program or Sweep, said the students have "elevated the level of the competition."
Mobile applications
"This is the first time that we see a lot of these mobile applications. And you can see that they can be useful to our everyday life," he said in an interview after the awards.
Smart developer evangelist Paul Pajo said the student projects were of high quality and showed extensive integration between various systems. They were also "very practical," he said.
What's different about this year's Sweep awards is the involvement of IdeaSpace, said Smart and PLDT public affairs head Ramon Isberto. It is "no longer just a competition in which you submit a school project to win prizes," he said.
"There's now a development path beyond the competition. The products or the innovations that are developed and submitted to Sweep actually now have a…clear path to become commercial products. And even possibly commercial products around which enterprises can be developed and built," he said.
Starting this year, the students were required to present a business model for their projects.
Isberto said this impacts the way schools approach the contest, which traditionally had been an electronics and communications engineering field.
Closer to real life
"If the school wants to be holistic about it, you should be bringing in your business students to make inputs in the development of these kinds of innovation. I think when they do that, it would be a much more enriching and rewarding experience or effort on the part of the school. Integrating engineering, IT and business I think is an important step forward for many of these schools, bringing them closer to real life," he said.
Valencia said Smart and IdeaSpace "want to show the world that these student projects don't end. The ones that are so interesting we should continue."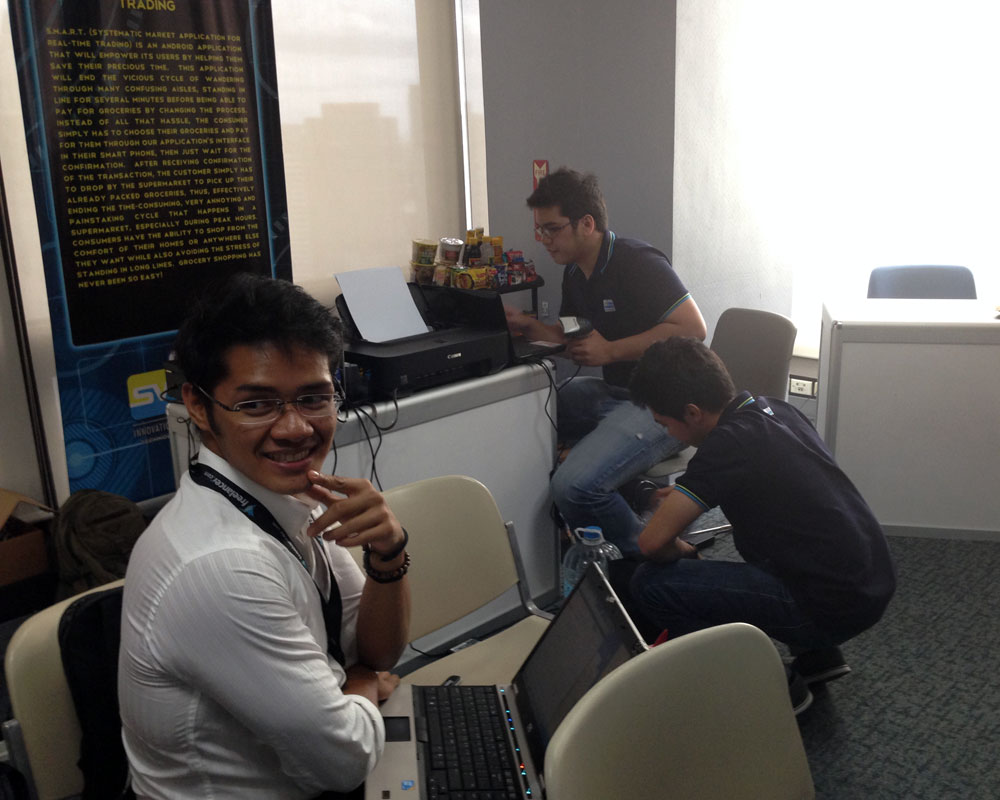 IdeaSpace is incubating three previous Smart Sweep submissions: a Braille cell phone and obstacle detector, a system that allows one to leave a queue and be alerted via SMS when its near your turn in line and a platform for runners and race organizers that started from a project to allow people to donate to charities and relief efforts. Each of team gets P500,000 and undergoes an incubation program meant to set them up as a business.
In his speech, Smart and PLDT chairman Manuel Pangilinan pushed for stronger focus on science and technology. He said the country's lack of scientists is a challenge and an opportunity for the student engineers.
"I hope you do better than my generation in pursuing careers in engineering, science and technology," Pangilinan said, "You have a brain, so use it. You have a heart be bold, be brave and take risks. I think you can afford to make mistakes because you're still young. The opportunities are here before you, via Sweep. Build a bright future for yourselves and for our country. Now is your time."
Max is a journalist and blogger based in Cebu. He has written and edited for such publications as The Freeman, The Independent Post, Today, Sun.Star Cebu, Cebu Daily News, Philstar Life, and Rappler.
He is also a mobile app and web developer and co-founded InnoPub Media with his wife Marlen.