I wrote this column in Google Docs, the Internet search giant's free online office suite. I thumb-typed a rough outline on an Android device—a Samsung Galaxy Tab—before I finished the first draft on my favorite desktop, which runs Ubuntu Linux, and edited the final piece in my office PC, which runs Windows XP.
All the time that I worked intermittently on this article during free time from desk work, I did not know precisely the physical location of this digital file nor the number of its copies and iterations. All I knew was that it was in Google's data centers—precisely where I do not know nor care.
Saving digital office files in the correct location is among the first things you are required to learn on the job, whatever the industry or the size of the company. In our newsroom, file location is something seared into your brain the very first day on the job. Unless you saved your article in the designated folder, editors cannot access your story in the modern-day filing tray called The Local Network.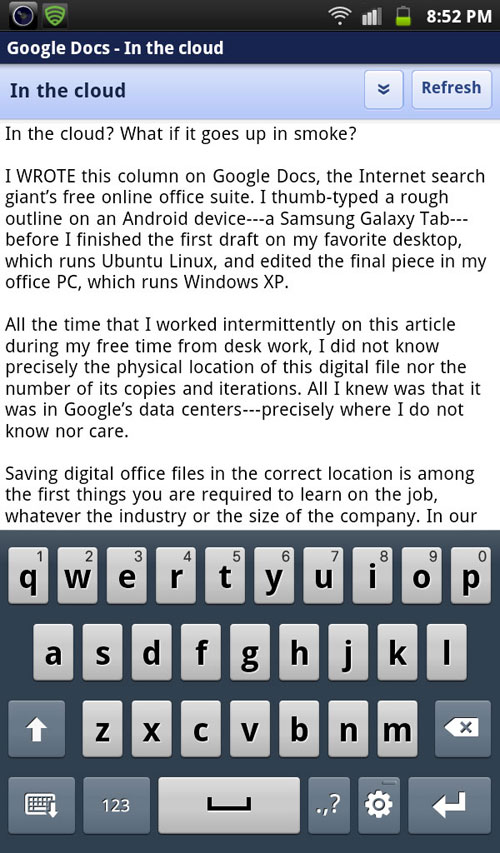 Writing using Google Docs on the Samsung Galaxy Tab.
But when I wrote this piece, this file was just "out there," accessible whenever I opened Google Docs from any computer or device. Only when it came to lay this article out in the business pages that I downloaded this file into the Sun.Star office network.
Contacts, events
Last week, I added about 10 new people to my contacts database and more than 20 events in my calendar.
As with writing in Google Docs, I added these data just in the Google system—not in my phone or in my desktop. I added the phone numbers and names in my @limpag.com GMail account, went through Facebook to grab their photographs and other contact data like e-mail addresses and did a quick search for their blogs and LinkedIn profiles. But after I added the contact details in my GMail-centered people database, the system then synchronized the data with my two Android phones (beats having to enter contact details twice) in a matter of minutes.
It's also the case with my calendar. I just added the details in Google Calendar, designated the category (personal, running-, business section-, or webdev-related), chose whether to be notified at a designated time and then clicked save. The system then took over—adding the events to my Android phones. People I share calendars with, newsroom colleagues and blogging and webdev partners, also get automatically updated on the event or task.
That's how easy living in "the cloud" is.
Every tech person you talk to today will eventually mention "the cloud" in the conversation. And rightly so. Taking advantage of the network for previously in-house tasks is something all organizations should consider, said Exist chief executive officer Jerry Rapes.
Why go to the cloud?
A properly-executed cloud computing strategy offers a company cost savings and access to technology and skills erstwhile unavailable in-house. Why spend to host and maintain mail servers when you can just let Google manage (for free up to a certain number of users) your mail with its vastly superior GMail technology? Apart from e-mail, you'd get a slew of services from corporate instant messaging, documents storage, shared calendar, shared contacts and even a portal. Why host a payroll server that processes data twice a month when you can lease the service from a cloud provider?
But as with any business move, stress should be placed on proper execution. The cloud is not panacea for bad systems or incompetent management.
The cloud offers security issues local networks are shielded by physical limits. To access files on a local network, you will most likely have to be on premises. Not so with the cloud. A security hole can expose your files from an attacker working from his or her bedroom in any part of the world.
Rapes is quick to caution, you are only as strong as your weakest link. That's why going to the cloud requires good planning and execution. Sometimes, the weakest link is connectivity.
At home, I sometimes have to resort to using LibreOffice's Writer to write articles when my DSL connection becomes intermittent.
Horrible experience
In 2005, way before "cloud" became a buzzword, I experimented with making the Internet my computer using various Web-based services that, save for Google Reader, I no longer use now. It all came crashing in January 2007, when the Taiwan quake took down the services of my then-provider Globelines for about a month. It gets worse—I almost lost 152 phonebook contacts in an online synchronization gone wrong with my previous contacts database service provider Zyb (the site since been purchased and discontinued by Vodafone).
These horrible experiences weaned me away from the cloud.
But I've now gone back. Android provides a good mix of offline access and cloud connectivity—I don't have to be online to be able to view my contacts or event details. Google Docs, however, needs work on offline usability but Springpad provides a good alternative when offline access is absolutely needed. Dropbox, a cloud-based storage, synchronizes your files among various devices that you have an actual copy in your device; you don't need to be always online to access your data.
Another reason why I've gone back to the cloud is that Internet connectivity has improved tremendously through the years. It's far from perfect but it gets the job done most of the time. Today, you have several choices of DSL or mobile broadband packages at various prices that were previously unavailable.
Four years after I swore never to depend on online services, The Internet, once again, is my computer.
Max is a journalist and blogger based in Cebu. He has written and edited for such publications as The Freeman, The Independent Post, Today, Sun.Star Cebu, Cebu Daily News, Philstar Life, and Rappler.
He is also a mobile app and web developer and co-founded InnoPub Media with his wife Marlen.