Southeast Asia is the battleground for a bruising competition among a set of cute mobile phone applications: chat apps. Up north, the battle has largely been won in their home markets, with Line taking Japan, WeChat in China and KakaoTalk in South Korea.
In SouthEast Asia, however, there is no clear winner yet, said Junde Yu, the vice president for AsiaPacific of App Annie. Line, WeChat and KakaoTalk are battling each other across the region through TV ads, billboards and celebrity endorsements.
"We send our heartfelt condolences out to good old-fashioned SMS," App Annie said in a blog post on the subject.
Yu said the fight is more than just about getting the top market share in social messaging. The apps are "entry points to dominate mobile."
Not just about stickers
"They are not just looking to get sticker revenues although it is big for them," he said. Although the apps are free, they sell virtual stickers that you send to your friends in your chats.
"They are looking to use it to drive app downloads, to drive game downloads," Yu said. He said Line was able to push one of their games to top the charts in just a few hours by promoting it in their messenger.
"This is something carriers can do when rolling out apps. You can send out text to encourage people to install and instantly you are top of the cart, you don't need to buy ads," he said.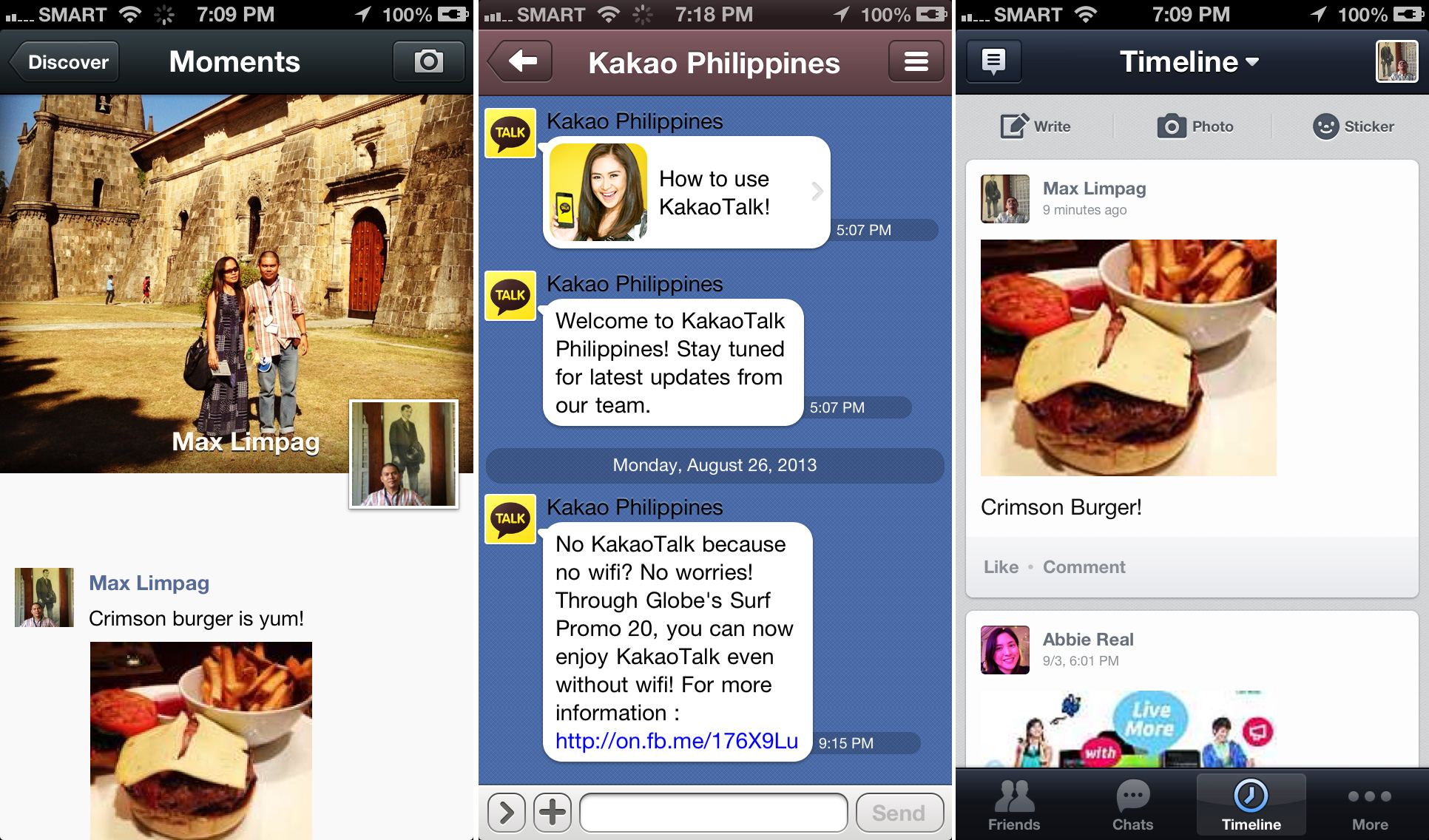 Chat apps and other so-called over-the-top or OTT services, which are services you use on the network of your telco provider, dominated discussions in last week's Asian Carriers Conference in Shangri-La's Mactan Island Resort and Spa. OTT services are disrupting the telecommunications industry and cannibalizing its revenues.
Apps like WeChat, Skype or Line allow you to send messages or make calls for free through an Internet connection, whether via Wi-Fi or your telco's network.
Revenues lost
Telcos will lose $32.6 billion to OTT messaging applications this year, according to Ovum, an analyst and consultancy company headquartered in London. By 2016, Ovum said the losses will add up to $54 billion. Add to that the $52 billion telcos are projected to lose to voice over Internet protocol (VoIP) applications by 2016 and the future does look challenging, an analyst said last week.
There is an opportunity for telcos to do well in the new digital landscape dominated by OTT players, another analyst said. They just have to get out of that operator mindset, said Bubbly CEO Thomas Clayton.
"Operator guys, you got to react faster," Clayton said. He said that when a chat network dominates a country, it also helps drive smartphone adoption. He said people would want to be in the dominant network and would buy smartphones to be there.
Telcos' responses to OTT services, according to Ovum, range from adopting a wait-and-see attitude to blocking their services to working or even competing with them.
Massive change ahead
Oscar Veronese, InternetQ SVP for Southeast Asia, told operators to partner with OTT players. "You have the consumers…they have the speed, the creativity." Veronese said the market will "explode" in the next six months.
"You're gonna see a massive change with people using feature phones going to smartphones," especially cheaper Androids, Veronese said.
In the Philippines, both Smart Communications, Inc. and Globe Telecom have started offering prepaid buckets that offer unlimited use of WeChat, Line and KakaoTalk services.
Yu said Filipinos are already top downloaders of mobile phone applications. He said the country is ranked 18th globally in downloads from Google Play, which is "really high" for a country with its population and GDP figure.
In the Philippines, revenue erosion is not as apparent as that in Europe "simply because the cost of call and text here is already very low," said Sun Cellular senior vice president Ricky Peña.
Experiment, learn lessons
"We have the benefit of learning from the experience of other operators. The way forward is to experiment and learn the lessons the OTTs are teaching us. It's all about giving the richer experience to customers," said Peña, who is also the head of communication of Voyager Innovations, Inc., the innovation arm of the companies under Manny V. Pangilinan's group.
Peña, however, said the issue is more than just messaging.
"It's all about building a digital life experience. Right now, the buzz is all about messaging. But the bigger picture is how will this technology change people's lives? That is what really will make your customers stickers. You will change for the better how they live, how they work, how they play," he said.
"It's not just all about messaging. Sure, communications is the glue that holds everything together. We also have to address the need to digitize other facets of their life like education, health, commerce – all of these things will be part of that ecosystem," he said.
Max is a journalist and blogger based in Cebu. He has written and edited for such publications as The Freeman, The Independent Post, Today, Sun.Star Cebu, Cebu Daily News, Philstar Life, and Rappler.
He is also a mobile app and web developer and co-founded InnoPub Media with his wife Marlen.