"IN 200 meters," the Waze app on the phone said, "turn right."
We were headed to Marco Polo Plaza Cebu and were near the Banilad flyover on our way to the IT Park when Waze, the driving application I was running on my phone, gave the direction to turn right.
Waze had determined, by going through its database of roads in Cebu and reports of traffic conditions sent in by users, that the quickest route for us was to go to that neighborhood behind Gaisano Country Mall, pass through Camp Lapu-Lapu and a small side road and emerge on our way up to the hotel.
But I've never passed that neighborhood behind Gaisano Country Mall for years and didn't know whether we could find our way out of it or even whether we could get in Camp Lapu-Lapu, which is a military facility.
Waze app GPS navigation
Although the Waze app had brought us quickly to where we were, 200 meters before Gaisano Country Mall, I had a mind to ignore the device and follow the route I'd normally take, which is to go straight Gov. M. Cuenco Ave. and then turn right to Jose Maria del Mar St. to enter IT Park.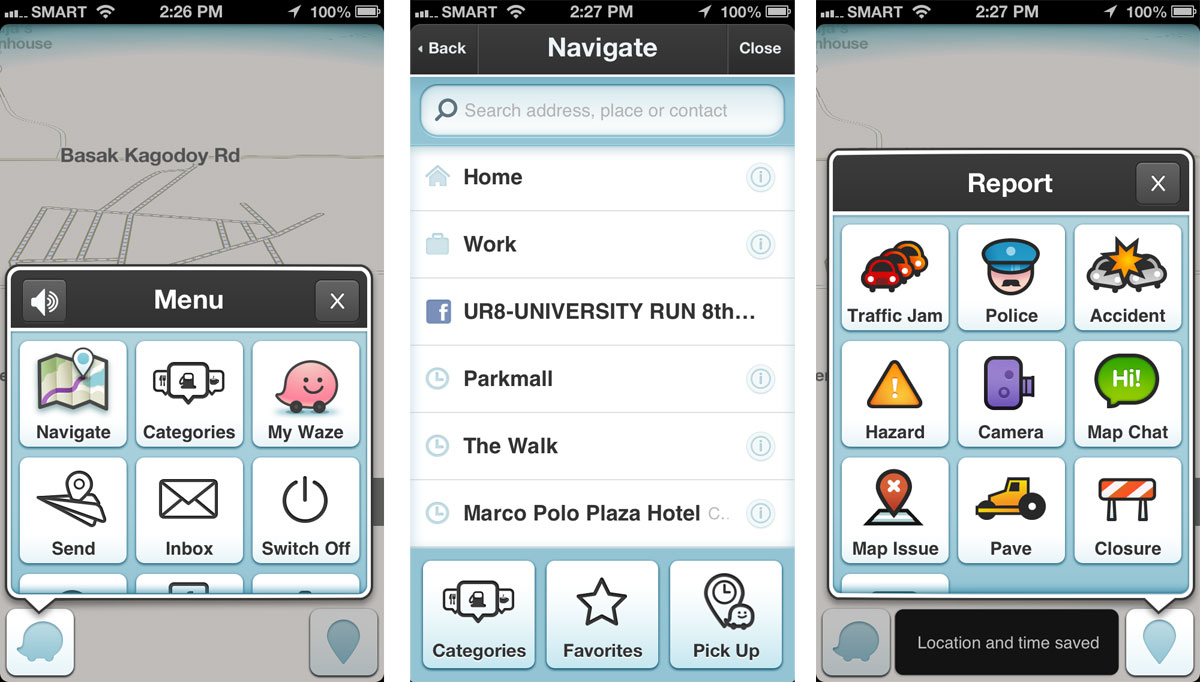 But I decided to follow Waze's advice, I'm testing it for a column piece anyway, I told myself. Corner by corner, the app navigated us, via voice cues, through the neighborhood near Camp Lapu-Lapu, right through the camp itself and out near JY Square.
And, as Waze had done so for weeks that I've been using it, we cut travel time by several minutes.
Waze, for the unfamiliar, is an application that you install into your Android or iOS device to help you navigate traffic. It uses GPS or global positioning system to track where you are, where you want to go and how you can go there fast.
It does this by getting route and driving data from the devices of its users and receiving reports from them. Users can report traffic jams and their severity, accidents, hazards and even police.
The system was founded in Israel and became very popular all over the world that Google bought it for $1.03 billion. The traffic reports are now starting to be integrated in Google Maps.
Easy to use
If you drive, Waze is an app that you should install. It's for free. But for it to work, you need to turn on our phone's GPS or location service and have a working mobile data connection.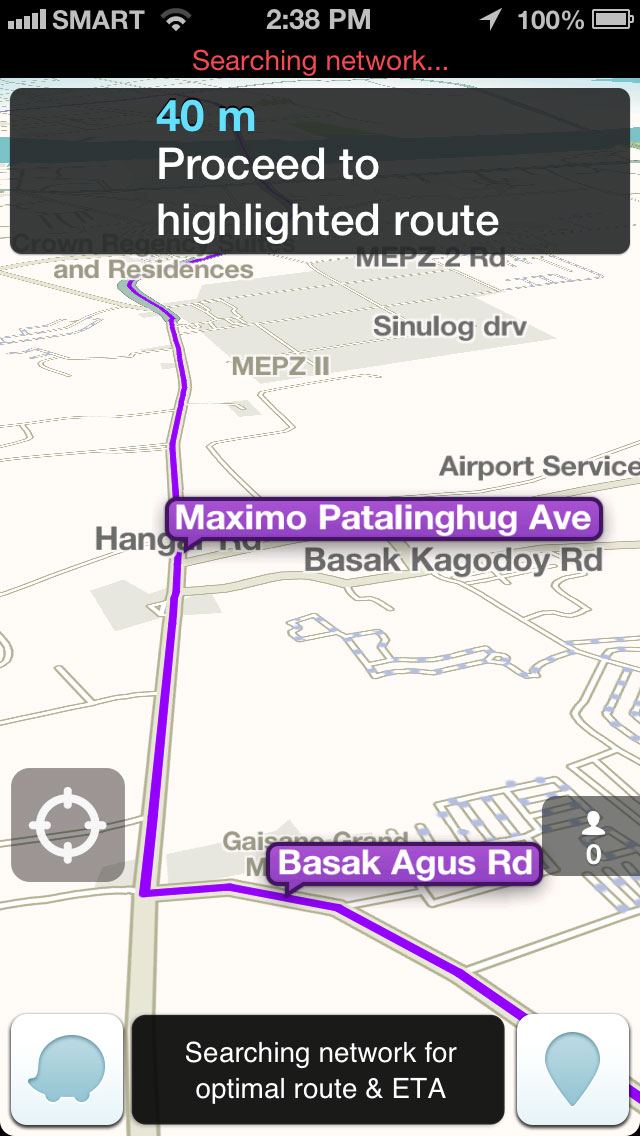 Using it is very straightforward. To go somewhere, you just choose navigate and search for the location of the place you are headed to. To simplify regular commute, it allows you to save locations you frequent like work, home etc. Reporting traffic situations is also easy, provided you have good mobile Internet connection.
The Waze app, being free and easy to deploy, is a great solution to dealing with traffic in an area like Cebu. Closed circuit cameras, which the City is deploying albeit not only for traffic but also to monitor crime, can only do so much and aren't as useful on the phone.
It would help our situation if more people would use apps like Waze and if government can help improve the system by populating it with field reports from enforcers.
The City already has a traffic reporting system via a system built on Android phones deployed on select taxicabs. By running the Waze app in them and encouraging drivers to send reports, other commuters will be able to take advantage of that rich traffic data.
Max is a journalist and blogger based in Cebu. He has written and edited for such publications as The Freeman, The Independent Post, Today, Sun.Star Cebu, Cebu Daily News, Philstar Life, and Rappler.
He is also a mobile app and web developer and co-founded InnoPub Media with his wife Marlen.