I checked today and Cebu-based print media still ignored the Plantation Bay issue. This, even after the decision by the Department of Tourism national office to investigate the resort. No stories. In one site, the only mention of the incident is in an opinion piece by a columnist of an affiliate in Pampanga. Unbelievable.
The only stories to come out of Cebu are from CDN Digital, GMA 7 Balitang Bisdak, dyLA, and correspondents of national publications such as The Philippine Daily Inquirer and Rappler. Other publications who covered it from Manila are Manila Bulletin and ABS-CBN.
We now get extensive coverage of a local issue more from national publications? Unbelievable.
Why have the media organizations many people like me depend on in order to be updated about what's happening in Cebu ignoring this story?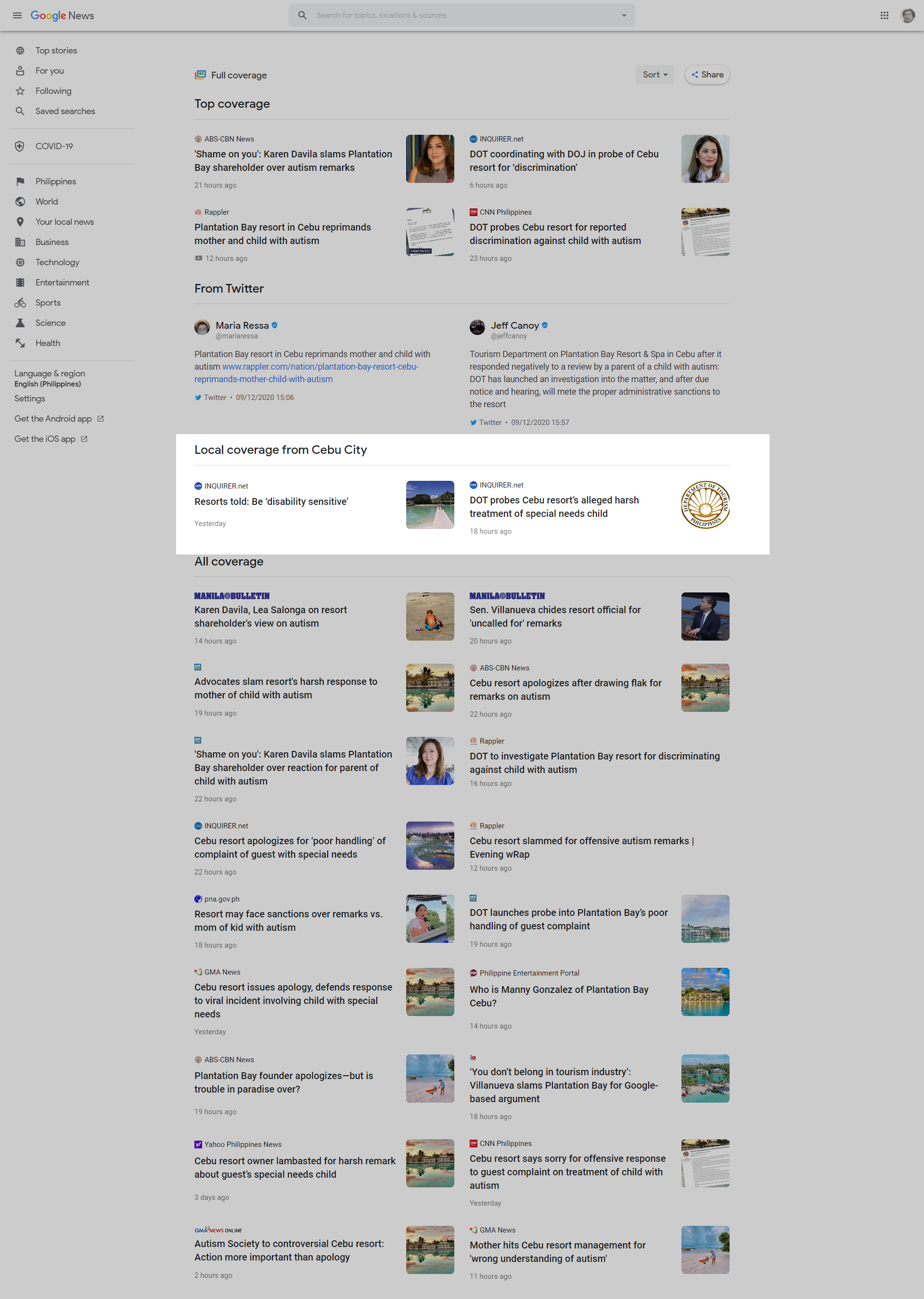 Is it because of the severe lack of manpower? If that's the case, the Philippine News Agency (PNA) has written an extensive story about it from Manila. There used to be an agreement (I don't know if it is still in force) that allowed publications and media organizations to use PNA stories. They could just have used the PNA story as basis and then ask someone to do local reporting: call up the resort for its side, interview the "resident shareholder," and solicit comments of LGU officials, the local DOT, and other stakeholders.
Is it because Plantation Bay is an advertiser? Is it because of the outsized influence advertising now has over the newsroom? How big an advertising contract does one need to sign in order to get this kind of protection? How about politicians who own companies that advertise with papers? Will the protection extend to personal and political scandals?
And this is happening just weeks from the absence of coverage on the arrest of a prominent Cebu businessman. An editor bluntly explained it to me: "dako ni nga advertiser" (he's a big advertiser).
Whatever the reason, I think it is an abdication of the newsroom's journalistic mission to ignore such an important story. Mainstream media, with its large following and resources, can move the discussion forward to tackle important questions related to what happened. That way, our tourism ends up better from this incident.
Max is a journalist and blogger based in Cebu. He has written and edited for such publications as The Freeman, The Independent Post, Today, Sun.Star Cebu, Cebu Daily News, Philstar Life, and Rappler.
He is also a mobile app and web developer and co-founded InnoPub Media with his wife Marlen.