When fire broke out in Barangay Tejero late Saturday afternoon, I was dragged to the scene by my wife, who wanted to cover it for her news blog and as trial for the system of Yahoo! Philippines' foray into local news.
I can no longer recall the last time I covered a fire for news. But it was definitely before mobile Internet became as ubiquitous as it is today. I think it was also before I had a wife who would drag me to a fire scene.
Amid the panic of people trying to save what they could as they accounted for family members and friends, we posted updates through our phones, took photos and videos.
Saturday's experience taught me a lot about the speed by which the technological juggernaut changes the way we do things, especially in reporting for a quickly-evolving online media landscape.
The basics of data gathering in journalism are contained in the mnemonic 5Ws and 1H. Get the five Ws-who, what, when, where, why-and 1H-how-of a news event, reporters are told on Day 1 of their journalism careers. So after finding ourselves at the fire scene, we asked people around, "what's the name of this place?" Villagonzalo II, said one. One person said another sitio's name.
I asked one the name of the street but by then, panic had set in. People were rushing to save whatever belongings they could drag away from the ravenous flames — computers, television sets, clothes etc.
When I posted an update in Google+, the Internet giant's social network, the system settled the issue for me, I was on G. Gaisano St.
The Google+ update that actually got published, however, was erroneous because in haste, I picked the wrong map point in the options presented to me by the dropdown menu and so my post contained the wrong GPS coordinates—about 500 meters off. I realized this only much later.
Close to 30 years after then US president Ronald Reagan ordered that GPS signals be made available free of charge, the system has become pervasive. Reagan issued the order after Soviet interceptors shot down a Korean Air plane with 269 passengers that mistakenly entered Soviet airspace. Officials said better navigational tools might have prevented the disaster.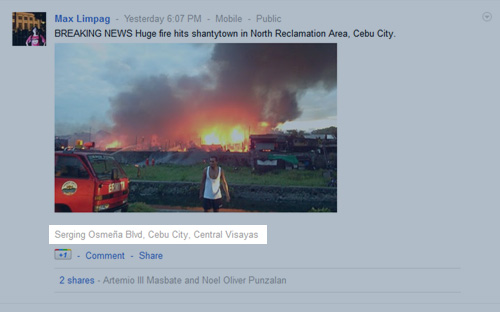 Today GPS devices are commonplace. Most modern smartphones come with GPS capability. Runners use GPS watches to track mileage and speed and record runs for replaying later.
People check into places using such tools as Foursquare, Glympse for Android and even Facebook. With Facebook, you can even tag the friends you're with. There's no better answer to the text message, "wer u?" than a Facebook check-in complete with tagging of friends.
Photo updates to blogs and social networks contain exact locations via embedded GPS data.
Check-ins work for news, too.
These tools enrich reporting. Instead of telling people where the news event happened, you can actually show them where. You can provide spatial context to your stories with what had previously been military-grade positional capabilities.
And the utility isn't just for reporting, it also covers news gathering. So-called augmented reality apps help you make sense of new surroundings — a helpful feature for reporters out on the field.
Max is a journalist and blogger based in Cebu. He has written and edited for such publications as The Freeman, The Independent Post, Today, Sun.Star Cebu, Cebu Daily News, Philstar Life, and Rappler.
He is also a mobile app and web developer and co-founded InnoPub Media with his wife Marlen.