AT KM 50 in last Sunday's Warrior 53K Ultramarathon, Jojo Militante told his wife to give up and get in the car, thinking she was nearing exhaustion and about to collapse.
"Is he nuts?" Susan Militante said in a Facebook interview. I could almost hear Susan saying "Wa siya mabuang (has he gone mad)?" Susan quickly told Jojo to go ahead and prepare her slippers at the finish line. The 42-year-old mother of two boys was running her first ultramarathon two years after getting hooked on running.
Her close friend Abby Ponce, an ultra-runner, led her support crew, Team Abbylicious, and saw her through to the end. The team was named thus because it was the same group, Susan among them, that supported Abby during her first ultra last May 1. The team carried a poster of Susan running with a statement that's truly her: "50K? Ayaw ko hadloka!"
"I feel like I achieved a very enormous feat when I stepped on the finish line. I'm an average runner so having done an ultra seems unbelievable," she said. She finished 76th with a time of 7:15:03.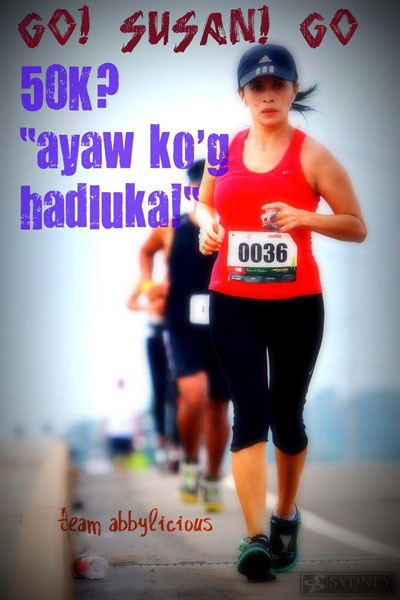 "My husband told me that would be my last ultra. I answered, 'yes that will be my last ultra….. in Cebu.' I really like to go to different places just to run. I haven't decided yet if I will run the 100K this November. I hope Dr. Stephanie Sy will allow me because I'm hypertensive and I maintain two medicines to control my blood pressure. I know that if it were not for running, I would be dead."
Something magical
When she completed her first full marathon last January, bank employee Linaflor Chan cried long before she reached the finish line and vowed never to run 42 kilometers again. Last Sunday, she ran 53 kilometers in 8:26:42.
She completed the distance with her husband, ultrarunner Victor Chan, who convinced her to level up.
"Last Sunday's run was so magical that I too cannot imagine until I crossed the finish line. But one thing is for sure, I couldn't have done it without my loving and supportive husband who was with me all the way from start to finish. His cheerful disposition, optimistic outlook, encouraging words and our bonding together truly kept me going," she said.
Linaflor said the intense heat of the sun made her weak and exhausted but she pushed herself to finish. She crossed the finish line with her husband and to the cheers of her friends and fellow Ungo Runners and members of Team Pinay (Jinky Yray, a frequent ultrarunner, and Michelle So, an upcoming ultrarunner).
150 singlets
After eight hours on the road, Lowaii Cebu Marine Beach Resort operations manager Lucrecia "Lulu" Valiente felt dehydrated and bloated. She felt dry and her hands were swollen and she thought she could no longer finish the distance.
But after being attended to by volunteer support crew members, she regained her strength and finished the distance, although beyond the official cutoff time.
Valiente is from Bilar, Bohol but she has been in Cebu for 30 years, actively involved in the tourism industry. She got into running in 2005, joining fun runs every Sunday when registration was only at P150. "In fact, I have a collection of over 150 singlets."
To train for Sunday's race, Lulu joined LSD (long, slow distance) runs and cross-trained on a bike. She ran like an ultra hamster at night in Mactan Memorial Garden. She also cut her intake of rice and meat.
When she received her medal, Lulu said she felt like she was in heaven. "It was one great accomplishment for me in my running career. I was so proud of myself that even in my late 40s, I could still compete with the younger ones."
Virgins no more, and it's Jonel's fault
Last Sunday's race by Jonel Mendoza, who is responsible for the rise of ultrarunning in Cebu, was well-attended by ultranewbies because of its relatively flat route. Other first timers who finished last Sunday are (this list was compiled through the help of FB contacts) Juliet Amazona, Francis Rosos, Martin Daiz Jr. , Mikur Ombos, Francis Cabanban, Gerald Anthony Laput, Lloyd Benjie Lumapat, Neil Nacario, Aquiles Ymbong, Mazil Rubic, Jing Sente, Aeda Mae Siao, Pam Ampuhin, Rowena Duarte, Brandon Bon, Toto Ric Lacro, James Jason Rodriguez, Jofre Nastor, Dindo Santos, Brian Gonzales, Loven Macario, Anastacio Cavan, John Paul Ong Villanueva, Bonnie Pusta, Jr., Edgar Sanchez, Earl Anthony Alas, Randy Laroa, Jojo Santiago, Arnold Lorenzo, and Jigs Bulawan.
Max is a journalist and blogger based in Cebu. He has written and edited for such publications as The Freeman, The Independent Post, Today, Sun.Star Cebu, Cebu Daily News, Philstar Life, and Rappler.
He is also a mobile app and web developer and co-founded InnoPub Media with his wife Marlen.