In the US, 89 percent of those with smartphones use it throughout the day, according to a study published last April by Google. The study, based on interviews of 5,013 American adults who identified themselves as users of smartphones, said the device has become a consumer's "always-on companion" and 93 percent use it at home, 87 percent while commuting or walking, 77 percent while in a store and 72 percent while at work.
Smartphones, according to the study, "serve as pocket PCs and extend the desktop experience" with 81 percent of smartphone users browsing the Internet, 77 percent using search engines and 68 percent using an app. Seventy-two percent of users also report using their phones while consuming other media like listening to music, 44 percent; watching TV, 33 percent; reading a book, 16 percent; and reading a newspaper or magazine, 22 percent.
The study offers a peek into the quickly rising use of mobile devices to access the Internet. It's just a peek because local usage scenario would likely be slightly different. For instance, the study said 89 percent of US respondents use their smartphones to stay connected with 82 percent saying they check and send emails with their phones and 63 percent using it for social networking. The numbers will likely be the other way around for Filipinos, who are among the world's most active group of people in social networks.
Giovanni Bacareza, head of broadband Internet and data services for Smart Communications, Inc., said they had local conditions and needs firmly in mind when they produced the Netphone, an Android-powered smartphone with key unique features.
Safe Browse feature
Bacareza said smartphones were built to be always connected to the Internet. In contrast, Filipinos only want to pay for service they need and demand affordability.
The Netphone 701 comes with Safe Browse, which the company patented, that allows the unit to disconnect from the Internet so as not to incur charges and yet still connect to a set of apps and services offered for free by the telco. While there are widgets you can install in your Android phone to easily turn Internet access on and off, Safe Browse is a first because it allows selective connections.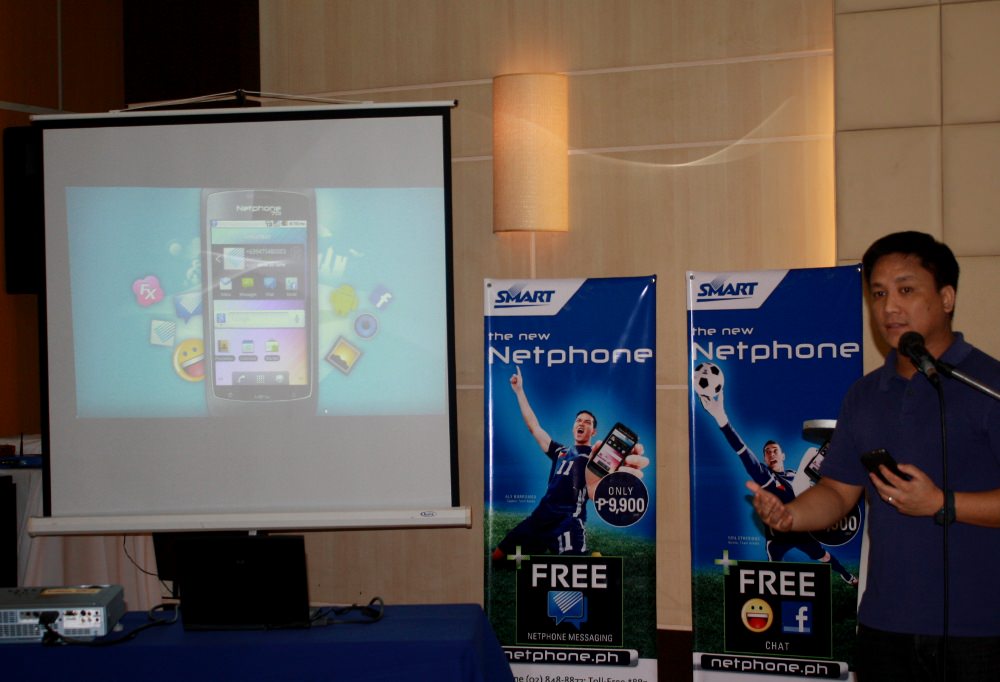 During last Friday's unveiling in Cebu, Smart showed a Netphone with just P7 in prepaid credits post status updates to Facebook and Twitter as well as comments on other status messages. All these were done in the unified interface of the company's Social Stream. A balance check after the demo showed it was still P7.
The Netphone also has a simplified visual interface to the various text, call and mobile Web packages of Smart. The facility also allows subscribers to quickly check the postpaid bill or prepaid balance.
Global Directory
But what really makes the phone stand out is its Global Directory, which simplifies the finding of people. It's the modern and social networking take on Yellow Pages (you do still remember those, don't you?). You can search for anyone on the Global Directory and request to be connected. If the person accepts your request, your contact information will be shared.
Mitch Padua, Smart development, community and application head, said you have to register with SmartNet in order to be searched in the Global Directory. You also need to approve the request in order for contact details to be shared.
To entice users, the Netphone comes with a really tempting offer — free access to Facebook and Twitter via Social Stream and a suite of messaging services under Netphone Messenger, which lets you chat with your Netphone, SmartNet, Yahoo Messenger and Facebook contacts. The messenger also offers some cool IM emoticons and animations.
The Netphone 701, which was launched over the weekend, costs P9,990 as a prepaid kit but comes free under postpaid plan P800.
First of many devices
Bacareza said the Netphone 701 is just the first of many devices. Padua said that what Smart built on top of Android will soon be available to other Android phones and even phones with other mobile operating systems. He said it could even be offered by other telcos but without Smart's free offerings.
"Because of what Smart did 10 years ago, 80 million Filipinos now have mobile phones," Bacareza said. "With this (Netphone), Smart is ushering a new mobile revolution. The needs of people are changing."
He said 30 million Filipinos are already online but only 5 million are connecting via their phones. "We think all 90 million Filipinos should have Internet," he said. But it's not just a matter of selling phones, he cautions, the "network also matters." Smart has a robust network and the company is investing to make sure it meets consumer demand, he said.
The offering, Bacareza said, shows how Smart is transforming itself from a traditional telecommunications company into a Web telco company.
Max is a journalist and blogger based in Cebu. He has written and edited for such publications as The Freeman, The Independent Post, Today, Sun.Star Cebu, Cebu Daily News, Philstar Life, and Rappler.
He is also a mobile app and web developer and co-founded InnoPub Media with his wife Marlen.