That's the ad lib of my favorite Filipino singer Gary Granada (at least it sounds like him – there are a lot of voices in the song but his distinctive Bisaya accent comes through) in the "Values Education" song available for free download at the PCIJ blog.
In Cebuano, it's "You're such a cheat, you're like Gloria." I think there's a better usage for Gloria. In Cebu, we say people are "pa Gorio Gorio" when you talk to them on an issue you are sure they know about and yet they pretend not to have a clue. Will that expression change to "pa Gloria Gloria?"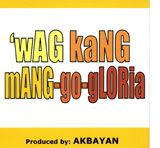 Gary Granada is, in my opinion, the country's best songwriter. I used to have tapes of most of his albums (remember cassette tapes?) and even a recording of one of his concerts in UP Diliman but these were borrowed and never returned while some got lost in my frequent transfers of boarding houses.
One of the highlights of my stay in UP Diliman was when Granada sang me a birthday song. I was staying in the house of Renato "Boyet" Mabunga and I kept on saying how Gary Granada was such a great singer. One day Boyet told me he would be drinking with Gary Granada at Sa Gulod near our apartment in Krus-na-Ligas in Diliman, Quezon City. I passed by Sa Gulod on my way home from school and indeed, Boyet was drinking with Gary Granada. I stayed for awhile and when I told them that I had to go because I was set to go out with friends to celebrate my birthday – the two downed one round of beer for me and sang me a birthday song – including Gary Granada – imagine that.
My favorite Gary Granada song is Eroplanong Papel. I am such an optimist and lines like the following make me feel that I could overcome whatever problems I am faced with.
"Ang bundok ay handang akyatin
Dagat may kaya ring tawirin
Ang pangarap ko'y mararating
Isang araw ay liliparin
Ang matataas na pader
Ng aking eroplanong papel"
My other favorite Gary Granada songs are: Holdap, Kahit Konti, Kung Alam Mo Lang Violy, Philippines 2000, Address, Kung Ayaw Mo Na Sa Akin, and Puno ng Mangga, Kapag Sinabi Ko Sa Iyo and Hanggang Kailan, Hanggang Saan.
I haven't been able to listen to his songs for years. The only album I have left is his Samu't Sari collection.
You can download an MP3 file of the Values Education song at the PCIJ site. To save on bandwidth and help others download it, don't play the song online. Just right click on the download link and choose Save Link As or Save Target as to save the MP3 file in your hard drive.
In writing the song, Granada, according to the PCIJ site, said "In the meantime that she remains in power, she can at least serve as a very good bad example especially to our children and to our youth. Huwag nating tularan si Gloria. Huwag kang manggo-Gloria."
Here are the lyrics to the song (taken from the PCIJ website)
Values Education
by Gary Granada

Huwad na eleksyon
Kick-back at kumisyon
Suhol, lagay,
Graft and corruption
Ano ang solusyon
Ang sabi ng leksyon
Ika ay values education

Huwag kang mandadaya
Huwag kang magsinungaling
Ang mga panata
At pangako�y tuparin
Huwag kang manggugulang
Huwag kang mgsasamantala
Huwag kang manlalamang
Ng iyong kapwa

Gloria
Huwag kang manggu-Gloria
Huwag kang manggu-Gloria
Gloria Gloria Gloria Gloria
Huwag kang manggu-Gloria
Huwag kang manggu-Gloria
Gloria Gloria Gloria Gloria
Huwag kang manggu-Gloria

Ang pahalagahan
Kailangan ng bayan
Bahay, pagkain, kalusugan
Makapag-aral
Trabahong marangal
Hustisya at kapayapaan

Ngunit inuuna
Ng gobyerno ang utang
Pinatitindi pa
Ang logging, mining, at digmaan
Dahil di malaya
Sa dikta ng dayuhan
Lalong lumalala
Ang kahirapan

Gloria
Huwag kang maggu-Gloria
Huwag kang mang-e-
Erap Ramos Cory Marcos
Gloria
Huwag kang manggu-Gloria
Huwag kang mang-e-
Erap Ramos Cory Marcos
Max is a journalist and blogger based in Cebu. He has written and edited for such publications as The Freeman, The Independent Post, Today, Sun.Star Cebu, Cebu Daily News, Philstar Life, and Rappler.
He is also a mobile app and web developer and co-founded InnoPub Media with his wife Marlen.