I found Aardvark through del.icio.us. The product is a free Firefox plugin that allows you to check elements of a webpage and how it is constructed. It is particularly useful for non-geeks like me who want to customize templates of blog content management systems like WordPress or Serendipity.
Aardvark allows you to check parts of a site and see which HTML or CSS element controls its presentation. If you place your mouse pointer over a part of a page, the block will be highlighted an a text below the block will indicate which element it is.
With the tool, you'd know which part of your style sheet to edit if you want to change a part of your CMS-backed blog.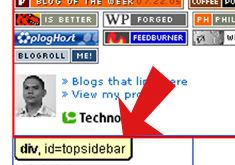 Max is a journalist and blogger based in Cebu. He has written and edited for such publications as The Freeman, The Independent Post, Today, Sun.Star Cebu, Cebu Daily News, Philstar Life, and Rappler.
He is also a mobile app and web developer and co-founded InnoPub Media with his wife Marlen.