SMART today announced the offering of a 7-inch Android 2.2 powered tablet bundled with its Smart Bro package. The company said the offering will further "democratize" Internet access in the country.
The ZTE V9 was launched last week with a suggested retail price of P12,795.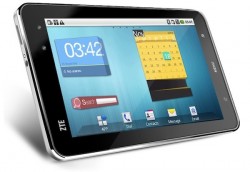 "The ZTE V9 is an affordable way for our subscribers to get the rich Internet experience of desktops and laptops, and the convenience and portability of Internet-capable mobile phones," Smart chief wireless advisor Orlando Vea said in a press statement.
"We know that many Filipinos still access the Internet mainly through Internet cafes and work or school computers. With low-cost Internet devices such as this, we aim to increase the country's Internet population, by enabling more people to easily have their own personal Internet access device," Vea said.
Initially being offered for prepaid subscription, Smart is making available the ZTE V9 on affordable payment terms. Subscriber may pay in six monthly installments at 0 percent interest through participating credit cards. It comes with a Smart Bro prepaid SIM with five days of unlimited Internet browsing. Subscriber may then register the Smart Bro prepaid account to avail of Unlisurf Packages, Per Minute Packages, or All Text Packages.
But more than just for Internet surfing, Smart officials expect Smart Bro to revolutionize the way subscribers use data services through the ZTE V9.
Because the tablet is powered by Android OS, ZTE V9 owners can easily customize and make their tablet more relevant to their needs and preferences with downloadable applications or apps. These apps, thousands of which are available in the Android Market, can expand the tablet's functionalities with various information, connectivity, social networking, gaming and multimedia services, all supported by Smart Bro's connectivity. These apps will also make it easier for Smart to deploy future data-driven services direct to its subscribers.
But aside from its data-centric features, Smart Bro Prepaid subscribers using the ZTE V9 may also use their Smart Bro account to access the tablet's SMS and voice call functionalities.
Other key features of the ZTE V9 include a 3.0 MP camera, WiFi, USB connectivity, built-in apps such as multimedia player, maps, YouTube, e-mail and more, and storage memory expandable up to 32GB.
With the launch of the ZTE V9 and with other affordable tablets and smartphones coming soon, Smart officials are confident that they will be able to capture new subscribers especially for its broadband services.
"We may think that we already have a mature and active Internet user group but only around 30 percent of the country's total population has Internet connectivity," said Vea.
"By providing more and more affordable Internet touchpoints, we'd like those in the other 70 percent, particularly those in lower income groups, to experience the benefits of the Internet as well. With the tablets' portability powered by Smart Bro's proven coverage nationwide, we are determined to connect every Filipino — especially those in far-flung areas and islands across the country," he added.
Believed to be the new wave of Internet connectivity, tablets have surged in popularity since last year because of its high mobility and its possibilities in changing the Internet, information and media landscapes.
Research firm Gartner placed total tablet sales in 2010 at 17.6 million, outnumbering former bestsellers laptops and netbooks. With the emergence of several low-cost tablets, it is expecting tablet sales to reach 69.5 million this year. Smart was the first telco to introduce the tablet in the country with the Samsung Galaxy Tab fully powered with network and data services. (From a Smart Communications press release)
Max is a journalist and blogger based in Cebu. He has written and edited for such publications as The Freeman, The Independent Post, Today, Sun.Star Cebu, Cebu Daily News, Philstar Life, and Rappler.
He is also a mobile app and web developer and co-founded InnoPub Media with his wife Marlen.