RHETT Jones has been coming to Cebu to attend a yearly telecommunications conference for three years and found the province a good environment for business.
"I noticed a lot of good things here, some anecdotal, like the taxi drivers just put the meter on and in most of Asia, it's an argument," he said in a recent interview.
"Just a small thing but I think that it's an indicator of a bigger thing about Cebu, which is that people are not always out to take advantage of you. They can be more easy-going and maybe just because you're a foreigner, they don't always try to rip you off. Sometimes, of course, yes. But I think less than somewhere like in Malaysia."
The Australian entrepreneur looked into Cebu as a possible business location seven months ago.
"I decided that the combination of English proficiency level, the relative safety of Cebu, there's not much pollution and traffic, I think that's a good compromise. I met some other friends here that were operating here who also had successful operations here and so that kind of encouraged me to come here," he said.
Jones moved to Cebu and opened Synacy, a software development house and back office company. It supports two other businesses he is already running – UTBox, an SMS messaging and fax solution for small and medium businesses, and Monopond, a bulk messaging solutions provider for companies like UTBox.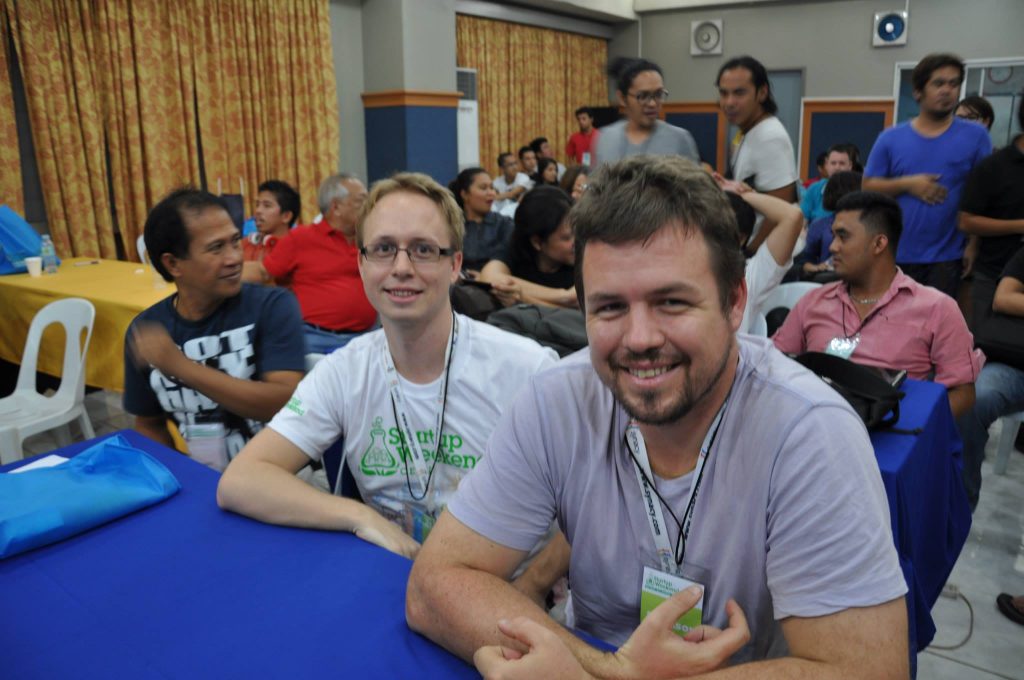 But apart from supporting the two companies, Jones said he is building manpower capability to start new business ideas or support local entrepreneurs as a technology accelerator.
"If I can find enough people," Jones said, he would like to help local startups but "instead of saying here's some money as an investment, I'll say hey, here's 20 people for two months."
Synacy is building a team of 40 people that would be assigned to UTBox and Monopond.
But the company is building an office in a PEZA-accredited building in Barangay Kasambagan that has room for 80 people.
"I intend to hire 80 people. I've got so many other ideas that I want to build and I also would love to get involved in other people's good ideas as a co-founder or an accelerator," he said.
Jones said the 40 who would be assigned for their two running companies would mainly be Java developers because that is what his messaging platform is written in. But the company is also on the lookout for web designers with skills like HTML 5 and WordPress theming. In their startup business, he said they are looking for Ruby developers.
In building his team, Jones used the services of software company Orange and Bronze.
"The reason I did that was that I wanted to have top-level programmers and then hire around them," he said.
But the key to getting good programmers, he said, would be "paying higher than the salaries that people are maybe used to now but lower than what they could get in somewhere like Singapore."
He said they're looking for "some kind of middle ground where it's better for the type of people who would have left to go to Singapore to work who would be happy to stay to be around their families and still have a good salary."
He said that to attract and keep good programmers, "we're trying to do things like we'll have a professional chef and kitchen in the office, we'll pay people well and we'll provide an interesting work environment."
Jones said a typical business process outsourcing company "can be a bit like a factory for people. While the money can be good, I think the quality of work can be low."
He said that by creating the right environment for Synacy, "I can find 40 programmers here, I'm sure."
Synacy supported the recent Startup Weekend Cebu partly to scout for programmers.
"If you wanted to hire really good people, often they are not applying to you via something like JobStreet or Mynimo or CebuJobs. Good people are often quite engaged in types of things like enthusiasts' night. People that are interested in their skills or passions, that they spend their weekend doing it, I think that is a good indicator of someone who is interesting to meet to know them or interesting to work with."
He described the quality of work of his employees as "very good. Especially the graphics design and web design skills I think they're very strong. And obviously the sales, call center type skills are very strong."
Jones said setting up a business here can be a bit challenging.
"Compared to somewhere like Singapore or Australia, it's a lot harder, but not impossible, you just engage a lawyer to do it. In general, it's very bureaucratic with a lot of forms and paperwork. I think that if a foreigner came here and thought to do it by themselves, it would be overwhelming," he said.
He described benefits and assistance provided by the Philippine Economic Zone Authority as "one of the reasons it could be encouraging to start a business here."
Max is a journalist and blogger based in Cebu. He has written and edited for such publications as The Freeman, The Independent Post, Today, Sun.Star Cebu, Cebu Daily News, Philstar Life, and Rappler.
He is also a mobile app and web developer and co-founded InnoPub Media with his wife Marlen.