DO you still hand out business cards or do you just wirelessly send contact details? Does the printed business card still have a role in a time when phone users can just Bump to exchange contact data?
In some tech circles, contacts data are already transmitted through a type of bar code known as QR for quick response codes. QR Codes, which was created by Denso-Wave in 1994, are widely in use in Japan, even in encoding passport data.
With most smartphone platforms—from Android, iPhone and Symbian—supporting QR Codes and even coming bundled with a scanner, its use has a chance of going mainstream.
Increasingly QR codes are being used in business cards to simplify the entry of data into the phone.
I wrote about using QR codes in business cards in a column here four years ago but the steps it took were a bit tedious. Now, it's infinitely easier.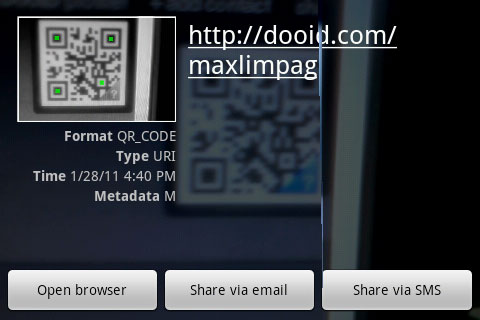 SCANNING. The phone redirects to my Dooid.com profile page after scanning my QR Code. Using QR Codes, you can make your business cards interactive.
To be able to read QR Codes, you need to have a mobile phone barcode scanner. Some phones already come with a scanner but if yours does not have one, you can easily install a free software for your smartphone system.
To add QR codes to your business card, use any of the following services:
ZXing Project QR Code Generator. The generator at http://zxing.appspot.com/generator/ allows you to encode contacts data, calendar events, geo location, e-mail addresses and even SMS into QR Codes.
The Web-based tool is very easy to use and configure.
The advantage in using ZXing's generator is that you can encode the contacts details within the code itself. Phone users do not need to connect to the Internet to get your contacts data—it recognizes the data as contact details ready for saving in their phones (at least in my test using Android Froyo).
The two other QR Code generators below do not actually encode contact details but redirect phone users to your profile page, which you configure upon signing up.
JUMPSCAN.COM. This free service simplifies the setting up of a QR Code that will redirect users to a profile page containing contact information and even social media details.
Jumpscan walks you through setting up your profile page, uploading an avatar, designating contacts data as well as social networking details.
Jumpscan is still in beta. If you want to use it, sign up right away because the site is limiting users to just 50,000.
DOOID.COM. Dooid.com is an even better service. It comes with all the features of Jumpscan.com and adds some more. Dooid.com offers more customization options for profile data, layout and design styles.
Unlike Jumpscan.com, you can specify certain contact details in Dooid.com as private and accessible only via a password. That way, you can choose which people get access to which contact details.
Max is a journalist and blogger based in Cebu. He has written and edited for such publications as The Freeman, The Independent Post, Today, Sun.Star Cebu, Cebu Daily News, Philstar Life, and Rappler.
He is also a mobile app and web developer and co-founded InnoPub Media with his wife Marlen.