Mobile Internet users in the Philippines are a "small but fast growing group of people," according to a study by On Device Research conducted in June and released last week.
The research company surveyed 900 mobile Internet users in June for the report. All the respondents were Android users, according to a footnote in the report. That demographic likely had an impact on the findings. On Device uses mobile devices to conduct surveys.
Citing data from Tigercub Digital and Oxford Business Group, On Device Research said the Philippines has the lowest smartphone penetration in Southeast Asia at 15 percent. In contrast, Malaysia is at 80 percent, Thailand at 49 percent, Indonesia at 23 percent and Singapore at 87 percent.
Rapid growth
But the Philippines is expected to reach 50 percent smartphone penetration in 2015. The growth is rapid, with the Philippines increasing faster than Indonesia and Vietnam combined, the company said, citing the International Data Corp.
Mobile Internet users are a "small but fast growing group of people," according to the report.
On Device said lower-priced devices from MyPhone, Cherry Mobile and Starmobile will drive the rapid smartphone growth. The Android phone market is currently dominated by Samsung, which has a 43 percent share.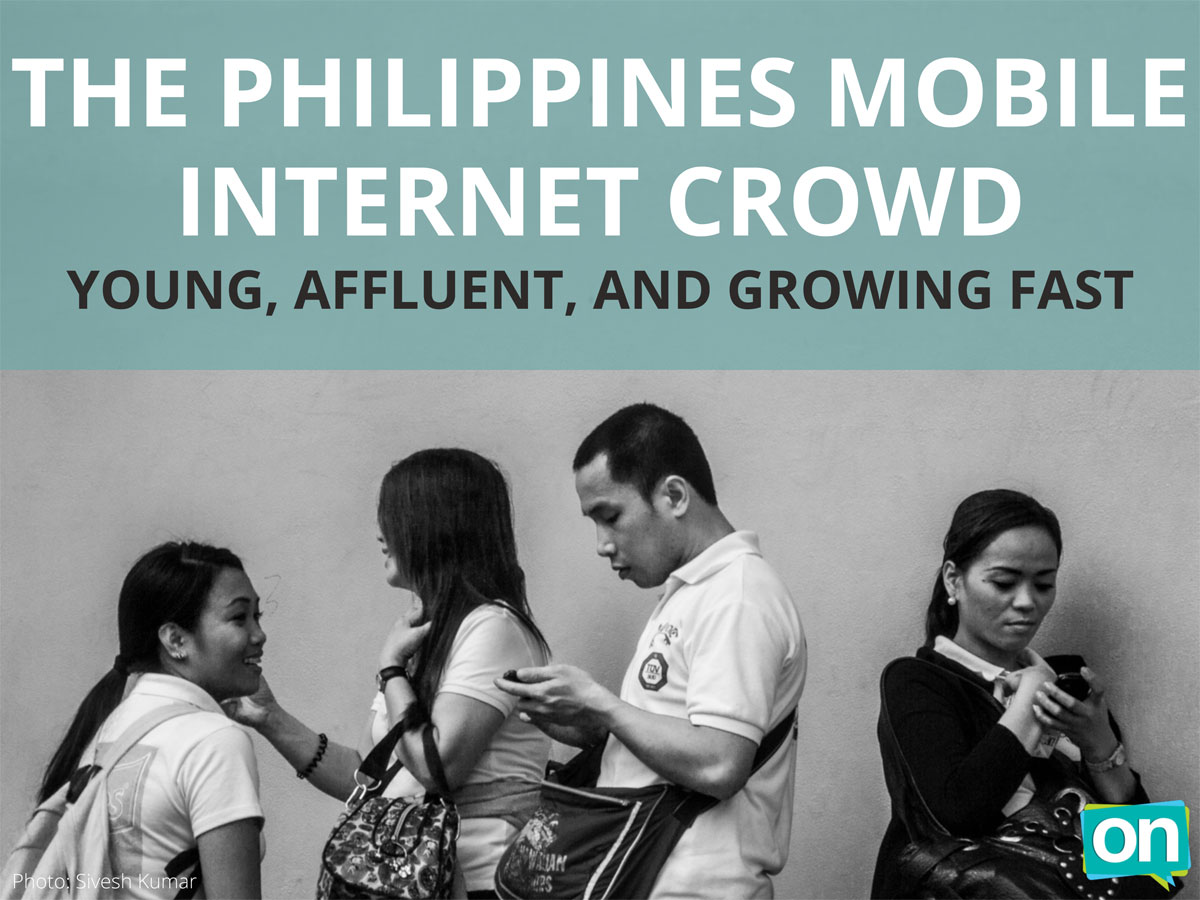 The company said Filipinos "are drawn to unlimited Internet packages" with 50 percent reporting an "unli" package for their device.
The report, however, said the Philippines has one of the slowest LTE speeds globally and only 41 percent reported being satisfied with their data speed. Among respondents, 34 percent reported being neutral while 25 percent said they were unsatisfied by the speed.
Tablets more popular than laptops
Mobile Internet users are also young, with 88 percent of the mobile Internet population in the Philippines under the age of 34.
Tablets are also more popular than laptops, with 30 percent saying they own a tablet as opposed to just 25 percent who have a laptop or netbook.
On device also reported strong social media activity in the Philippines, saying 42 percent of total screen time in the country is on social media. The company said Filipinos are the top social media users in Asia Pacific, spending four hours a day in social networks.
In messaging, Facebook dominates the Philippines. On Device reported that 82 percent of Filipinos report using Facebook Messenger at least one a week. In contrast, only 27 percent said they used Viber and and another 27 percent said they communicate through Skype at least once a week. The three top Asia-based messaging apps did not do as well as they did in other countries, especially their home markets. South Korean Kakao Talk was just at nine percent, Chinese WeChat at 15 percent and Japanese Line was at 10 percent.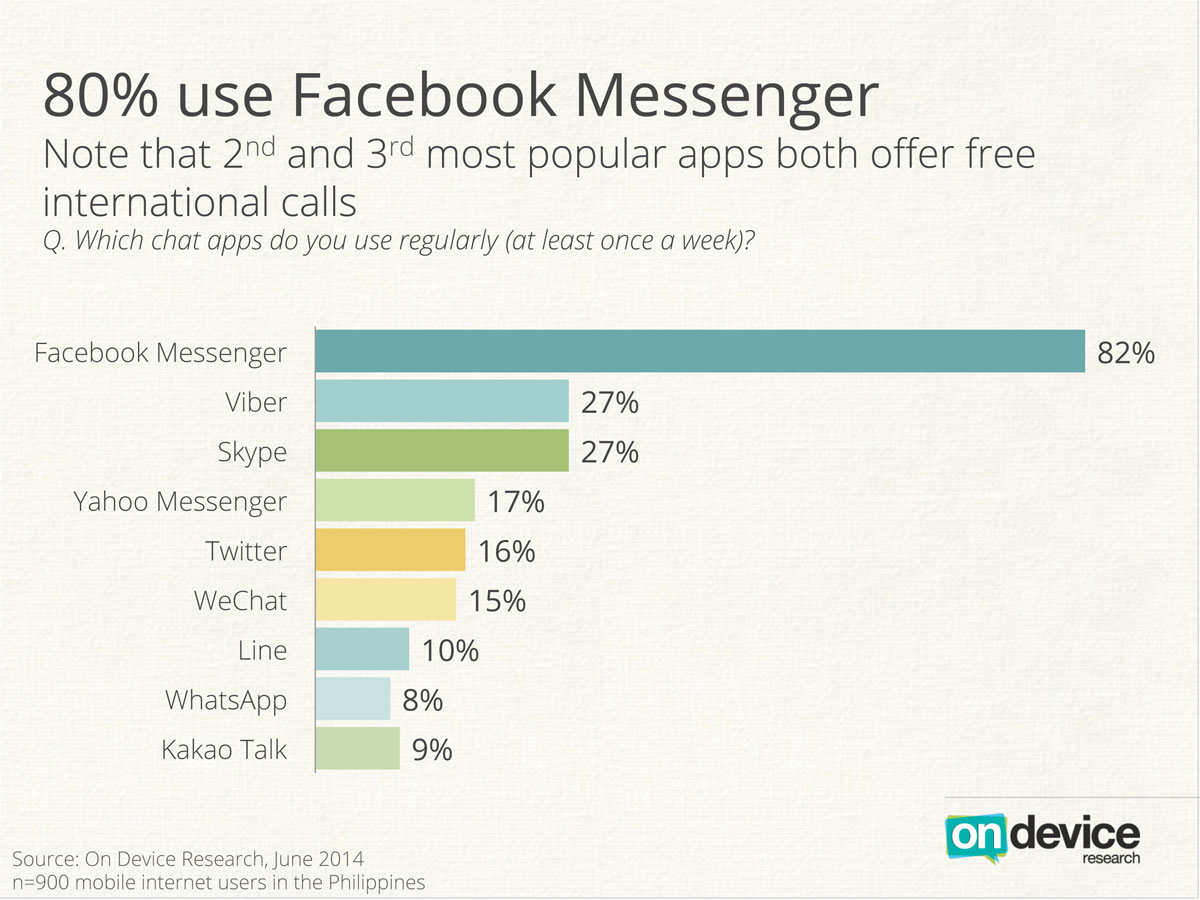 Apps 'extremely popular'
On Device also reported that their survey showed apps are "extremely popular" among Filipinos with 78 percent saying they downloaded an app or game in the last month and 32 percent saying they installed six or more apps per month. The study also said that 45 percent reported paying for app installation or in-app purchases.
Of those who reported paying for something on their phone, 29 percent said it was for a game, 19 percent for music, 11 percent for video and 10 percent for stickers. Those who paid for calls worldwide comprised only eight percent.
The company also said typhoon relief efforts boosted use of mobile cash. It said ewallet solutions like Smart Money and GCash are the most popular payment platform among its respondents.
On Device stressed the importance of mobile for companies. The "mobile market is young and will continue to grow — it's vital for brands to target these young mobile-first consumers," the company said.
Max is a journalist and blogger based in Cebu. He has written and edited for such publications as The Freeman, The Independent Post, Today, Sun.Star Cebu, Cebu Daily News, Philstar Life, and Rappler.
He is also a mobile app and web developer and co-founded InnoPub Media with his wife Marlen.