Everything stopped when I downloaded Konfabulator last week – all tasks were set aside as I went through all the available widgets in the software publisher's website. At the end of my search, I decided on using the following widgets: SiteCheck – to monitor the availability of my personal and work websites; Thesaurus-Dictionary, which gives you a search interface to the dictionary.com site (results will be served by your default browser); SysMonitor – to monitor CPU and memory usage; Calendar; Gmail Search and Check to monitor my GMail account; ElegantStickies, which I don't use much because I use an online TiddlyWiki; Werewolf Monitor and Chrome Clock for eye candies.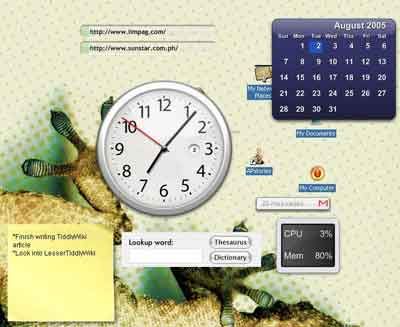 Max is a journalist and blogger based in Cebu. He has written and edited for such publications as The Freeman, The Independent Post, Today, Sun.Star Cebu, Cebu Daily News, Philstar Life, and Rappler.
He is also a mobile app and web developer and co-founded InnoPub Media with his wife Marlen.