In 1933, Cebu City passed a Blue Sunday Ordinance that mandated businesses and factories to close on Sundays. Only libraries, photography shops, barbershops, bakeries, restaurants, public markets, and those selling "articulos de primera necesidad" were allowed to open.
Employers were required to pay those who work on Sundays extra wages.
It's noteworthy that "pansitan" is its own category and not included in "restawran" and "karinderiya." Pansit was life then, apparently.
Blue Sunday laws are laws "forbidding certain secular activities on Sundays" according to Britannica. It said the name may have come from a 1781 book that listed rigid Sabbath regulations printed on blue paper. The more probable etymology, according to Britannica, is the "18th-century usage of the word blue meaning 'rigidly moral' in a disparaging sense."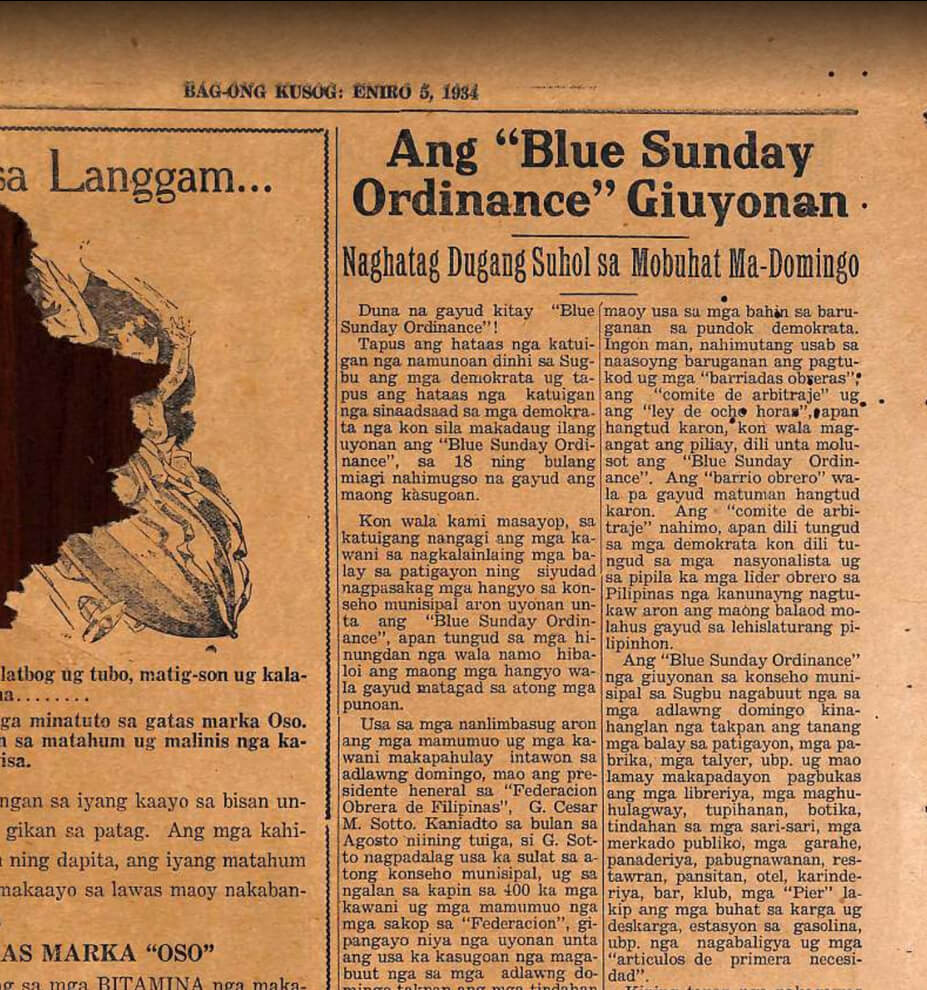 "Blue laws usually forbade regular work on Sunday, plus any buying, selling, traveling, public entertainment, or sports," according to Britannica.
The Philippines had a Blue Sunday Law in Republic Act No. 946 but this was repealed by P.D. No. 143 in 1973, which prescribed a weekly rest day instead, said lawyer Vincent Isles. This is now in the Labor Code.
Many churches blame the repeal of blue laws for declining membership and worship attendance. I can't find a study that covers churches in the Philippines but a US research offers some clues.
Theology professor Steve McMullin, in his paper "The Secularization of Sunday: Real or Perceived Competition for Churches", said a survey of 16 declining Protestant congregations in the US blamed competing secular activities, especially sports, for decreasing attendance.
Whenever a US state repealed a blue law, a study he cited said, religious attendance as well as church donations and spending fell.
He said, however, that "with Sunday no longer considered sacred … the freedom to offer worship on other days may provide opportunities for such congregations to grow."
Blaming secularization of Sundays, McMullin said, blinds congregations from making changes. These groups are also usually unwilling to change, unwilling to use new technology, schedule alternative services and change worship styles, he said.
Max is a journalist and blogger based in Cebu. He has written and edited for such publications as The Freeman, The Independent Post, Today, Sun.Star Cebu, Cebu Daily News, Philstar Life, and Rappler.
He is also a mobile app and web developer and co-founded InnoPub Media with his wife Marlen.