One of the key features of the new BlackBerry 10 operating system that runs on newer devices like the Playbook, Z10 and Q10 is its ability to run some Android apps that have been converted into .bar files.
To install these apps, you need to "sideload" the files or transfer these to the phone via a laptop or desktop. If you're on Windows, you can sideload the files using DDPB or VNBB10.
If you're on a Mac, it used to be a bit more complicated to install Android apps and required that you type commands on the Terminal.
A Google Chrome extension, however, simplifies this task. Here's a step-by-step instruction from BlackBerry portal CrackBerry.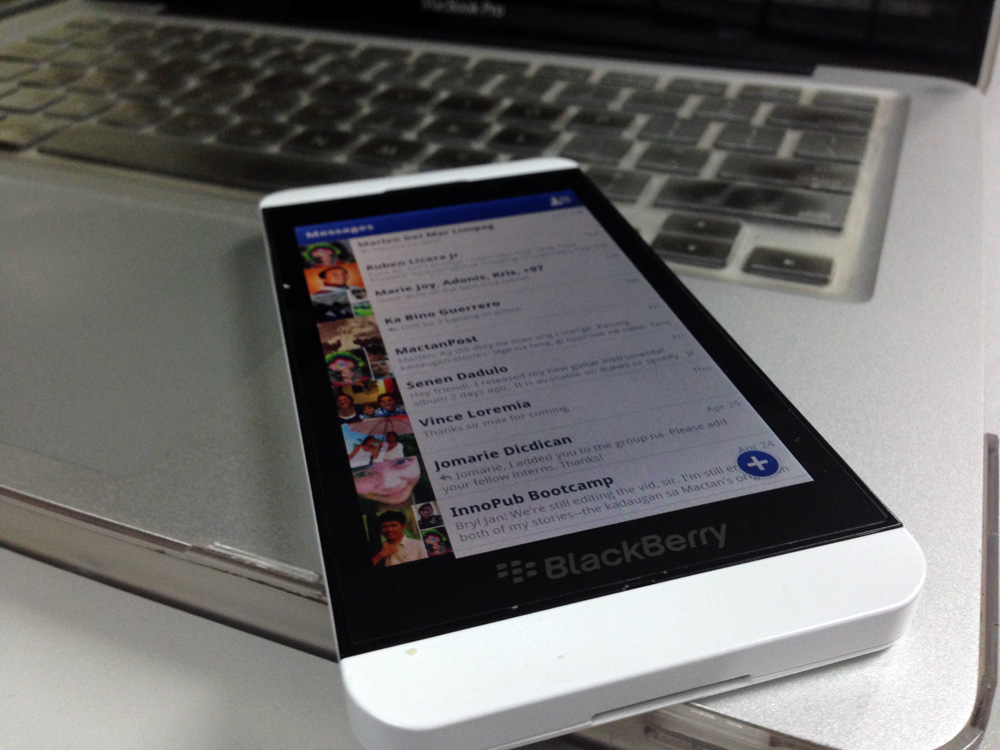 To sideload using your Google Chrome browser, all you need to do is:
1) Install the Playbook App Manager available at the Google Chrome Store,
2) Put your BlackBerry on Development Mode by going to Settings > Security and Privacy > Development Mode
3) Connect to your device by entering its IP address in the Device Hostnames/IPS field (if you can't connect using the IP address listed in the Development Mode screen, try connecting using the IP address indicated in Settings > About then choose Network in the Category field. You will get a "The site's security certificate is not trusted" warning, click on Proceed anyway and
4) Install .bar files into the device either by dragging the files into the upper right corner of the browser or clicking on the Install App button.
What's great about the system is that you no longer need to use the data cable, you can connect to your BlackBerry device via Wi-Fi. When I first used this, however, I still needed my cable because the configuration of our office Wi-Fi prevented me from connecting to the phone. At home, I had no such problem and I was able to install apps to the device from my laptop via Wi-Fi.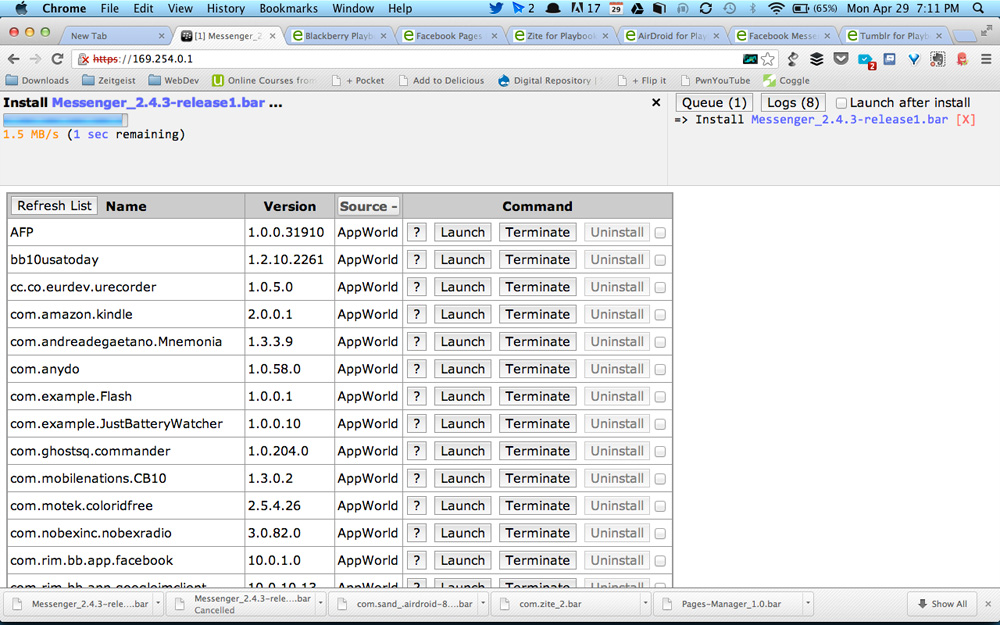 I just installed some Android apps that do not have BlackBerry versions available in the BlackBerry App World into my BlackBerry Z10 using a MacBook Pro. These include the news reading app Zite, Facebook Messenger (which I now use even for work-related messaging), AirDroid, Facebook Pages Manager, Google Maps, the multi-protocol messaging app imo and Flipboard.
All the apps worked after installation. I encountered "500 cannot determine Package-Id" errors a few times during installing .bar files and these were because the files were not completely downloaded. I was downloading at a time when the office Internet connection had issues. I fixed the error by re-downloading the .bar files.
All the apps I installed worked although Facebook Messenger needed a couple of restarts before I could log in. Flipboard installed and ran but I still could not get past the log in screen (it is my 5th attempt as I write this, it still won't log in.) AirDroid worked but I could not view text messages and when I tried to send one, the dropdown screen did not list my contacts. Bummer.
You can get .bar files from the GoodEReader site and this listing at the CrackBerry forum.
Max is a journalist and blogger based in Cebu. He has written and edited for such publications as The Freeman, The Independent Post, Today, Sun.Star Cebu, Cebu Daily News, Philstar Life, and Rappler.
He is also a mobile app and web developer and co-founded InnoPub Media with his wife Marlen.