People see themselves as fans of political candidates, that's why campaigning in the Philippines is what it is right now, said author and political strategist Earl Parreño.
Parreño, author of the President Rodrigo Duterte biography "Beyond Will and Power," spoke at the Philippine Press Institute's online roundtable "Air Wars: Soc Med and the 2022 campaign." The roundtable was supported by the Hanns Seidel Foundation and moderated by journalist Ed Lingao.
People do not see themselves as "participants of governance" but as members of fans clubs, said Parreño. This is the reason why the "air war" or the campaign through media such as radio, TV, print, and social media rarely focus on issues on governance and platforms.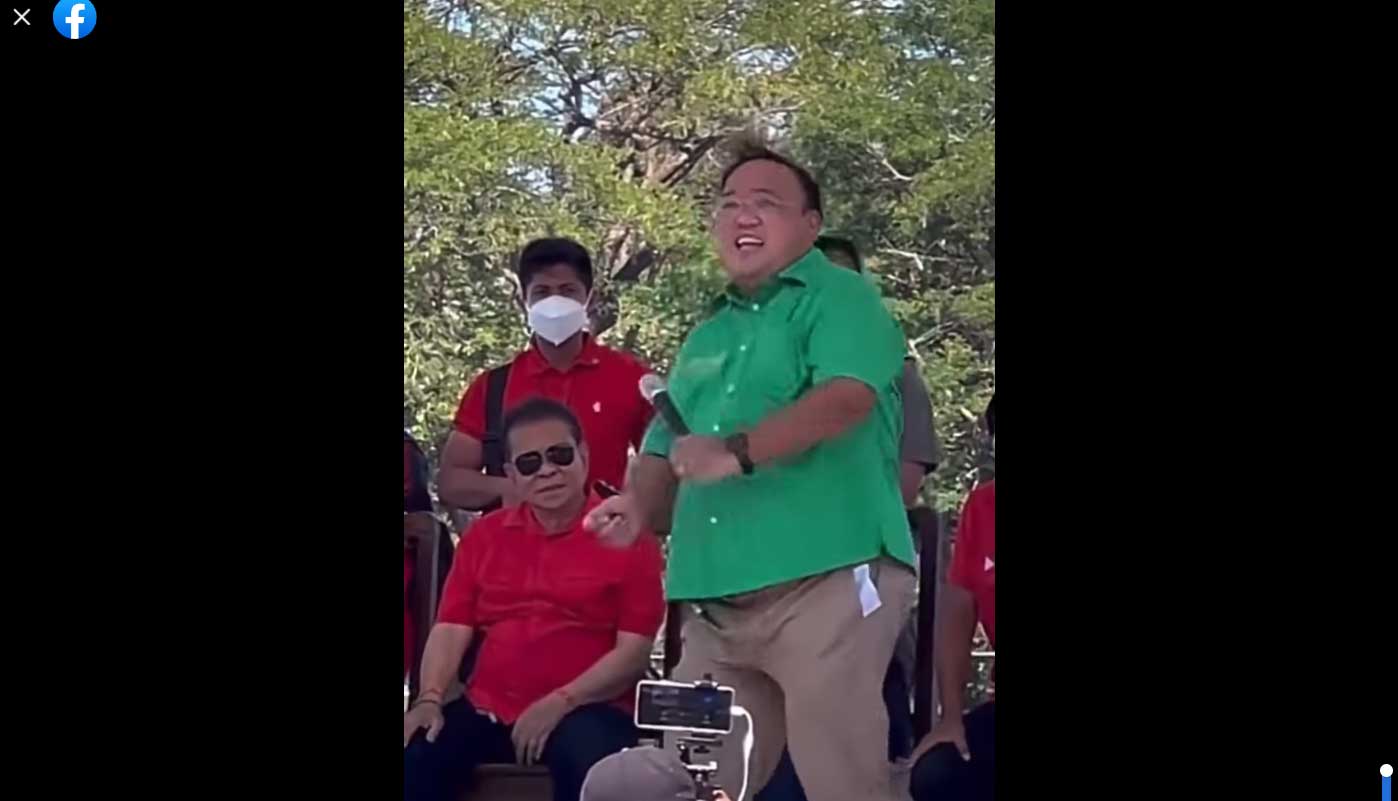 "So yun yung nangyari, fans club sila kaya yung air war ay nakabatay din doon sa framework na yun – hindi naman ito governance eh so why should I talk about platforms, mag sayaw sayaw na lang ako, magpa pogi na lang ako, magdamit na lang ako nang magugustuhan ng mga tao," said Parreño. (So that's how it happened – people see themselves as fans, so candidates do not see the need to discuss governance and platforms. They'd rather dance, look good, and dress well to be appreciated by people.)
Political analyst Ronald Llamas, who served as the Presidential Adviser for Political Affairs of the late President Aquino, said the absorptive capacity of people for messages is 60 seconds. The challenge is to catch people's attention and to engage them even as one tries to summarize concepts on governance and platforms.
Llamas said this is the reason behind the repeated and simple messaging behind some campaigns.
"Kailangan makumbinsi mo sila in a few seconds. Kaya nga napaka dominant nung mga memes, napaka halaga ng creatives. You have to catch the attention of people and after catching them kailangan mo siyang ma kombinsi kaya pagalingan ito," Llamas said. (You have to convince people in a few seconds. This is the reason why memes are dominant, why creatives are important.)
Llamas said candidates should have at most two compelling issues that are emotional to drive their campaign.
"Pero we have to come to terms with those limits. Kahit gusto natin magpaliwanag ng platforms dapat yung platform ma summarize natin in 60 seconds," Llamas said.
Professor Dennis Coronacion of the University of Santo Tomas Political Science Department said social media users and voters are generally impatient and "would like to know the message in a very short span of time."
"Depende rin yan kung ano ang sasabihin. It cannot be too serious and it cannot be too general or too objective. Yung message should be specialized, very narrow and very particularistic. Kaya very effective yung mga memes," said Coronacion.
Llamas said that in the 2016 campaign, then candidate Duterte was effective in deploying one liners to dominate the campaign.
"Mag jejetski ako punta ako sa mga contested islands sa South China Sea. Tatapusin ko ang crime ang drugs in 6 months. Ipapatay ko ang isang daang libong addict atsaka pushers, drug lords at itatambak ko sa Manila Bay. Talagang the enforcer, the punisher. But it worked," said Llamas.
With the messaging of Ferdinand Marcos Jr., "halos dalawa lang yung message nya eh, yung windmill na pinapasa nya kay Sara, bagong umaga wala namang laman kung ano yung bagong umaga tapos yung unity yung pagkakaisa. Halos walang laman yung dalawa nyang messages pero nagcli-click for him. Yung windmill nga hindi siya ang gumawa noon mga projects nang Ayala nuon sa Ilocos pero nagamit nya," Llamas said. (He has two main messages, the windmill that he passes to Sara Duterte, new dawn that isn't explained and unity. The two messages are empty but they clicked. The windmill project that he had nothing to do with, it was by Ayala, he was able to use.)
Parreño, however, said that on the ground, what resounds in communities are not Marcos' messages on the windmills and unity.
"I don't think ang nasasagap ng mga tao kay Marcos ay yung windmill nya o yung Team Unity etc. Sa ground kasi ang nasasagap nila ang Tatay nya ay magaling yun. Ang Marcos gold ay lalabas yun at sya lang yung pwedeng maglabas noon. Yan yung sa ground eh. Hindi yung ad na lumalabas sa TV kung di yung mga fake news na maski sila dinideny nila na wala namang Tallano Gold at yung pumapatak sa isipan ng mga tao," he said. (The message that people get on the ground is that his father was good and that the Marcos gold will be released and only he can order its release. It's not the ad that comes out on TV but the fake news that even they had to deny.)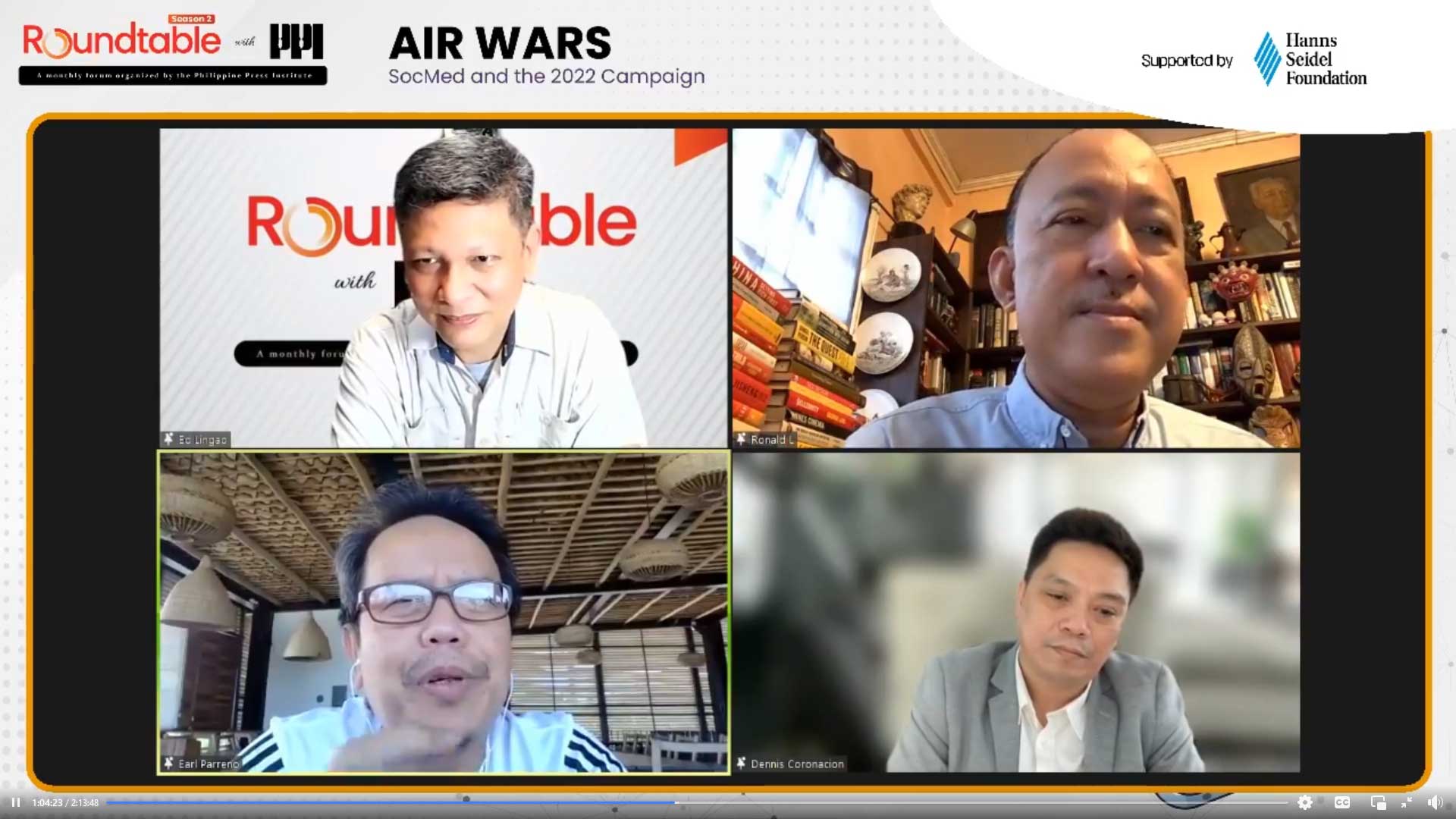 Parreño and Llamas said that the Tallano gold frequently comes out in focus group discussions. Parreño said it's even the foundation of a scam in areas Visayas and Mindanao where people are asked to pay from P100 to P850 to be given a card, said to be an ATM but without a magnetic strip, that they can use to collect P10,000 a month once Marcos wins as president.
All three panelists agree that social media will play a key role in this coming and future elections.
But the messaging "has to be dramatic, it has to be emotional," said Llamas.
"Halimbawa si Senator Ping Lacson. Napakaganda yung kanyang platform. Napakaganda yung kanyang messaging pero napakataas din nung kanyang integrity para sumayaw katulad ni Harry Roque. Hindi nya gagawin yun," said Llamas. (An example is Senator Lacson. He has a good platform and messaging but a high standard that prevents him from dancing like Harry Roque.)
"So ang kinakailangan na ibalense yung content, yung intellect ni Senator Ping Lacson with the medium na 60 seconds na emotional and dramatic," he said.
"Hindi naman pwede yung katulad ni Harry Roque. Kahit na anong gawin mong pagsasayaw sa TikTok hindi magiging senador yan," said Llamas. (No matter how often Harry Roque dances on Tiktok, he'll never be senator.)
Max is a journalist and blogger based in Cebu. He has written and edited for such publications as The Freeman, The Independent Post, Today, Sun.Star Cebu, Cebu Daily News, Philstar Life, and Rappler.
He is also a mobile app and web developer and co-founded InnoPub Media with his wife Marlen.