Smart Communications, Inc. conducted the country's first long-term evolution (LTE) voice calls and SMS in Cebu last Tuesday.
PLDT-Smart Technology head Rolando Peña described the development as historic and said it was a "major step forward for Smart and the Philippine mobile industry."
LTE is a telecommunication standard for high-speed data transfer. Being a standard for data transfer, operators need to engineer it to be able to do voice calls, which are currently handled differently.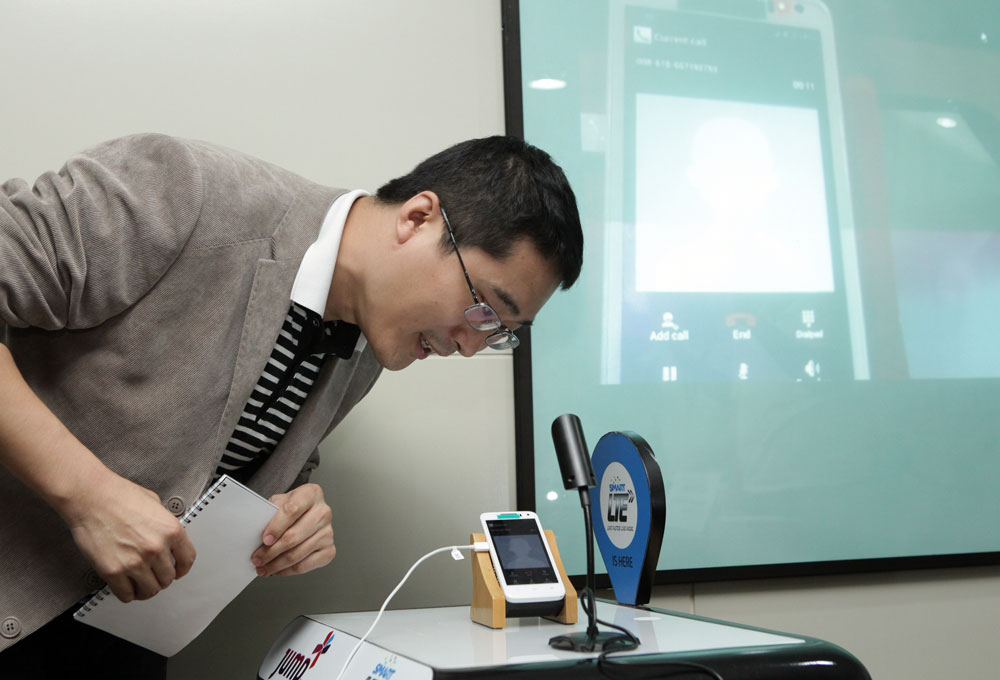 The calls and sending of SMS were made a month after Smart launched commercial availability of its LTE services.
Last Tuesday, Smart conducted several firsts in LTE voice calling: within the Smart network, with a Sun phone and with a Globe mobile. Smart also conducted the first overseas LTE voice call when Huawei Wireless Technology Head Li Zhi Chao called from the Smart office in Cebu a colleague at the Huawei head office in China. A Smart representative also called the NTT DoCoMo office in Japan.
Data connection
Smart Technology Services Division head Mar Tamayo also placed a call from the Smart office in Cebu City to Smart Wireless Consumer Division head Noel Lorenzana in Makati City to inform him about the development.
Smart Technology Services Division manager Hans Alvarez said the network uses circuit-switched fallback to enable voice calling. With the system, data connections are not interrupted when the network handles the call by switching it over to the circuit-switched HSPA network or whatever is available to handle it.
Alvarez said LTE, being a standard for data transfer, handles data by packet-switching.
In their demonstration, Smart showed an LTE-capable phone playing a YouTube video getting a call from a regular mobile phone. When the call was taken, the YouTube video was paused. After the call, the phone was able to continue playing the video at the point where it was when the call was received. Officials said that it showed data connectivity was not cut off when the system handled the call.
Peña said this handling of voice calls over Smart LTE uses the same techniques and technologies used by telcos in the United States and Europe.
Alvarez said that in the future, they wanted the call to no longer be handed over to circuit-switching but to be treated as another data connection within the LTE network. The system, called voice over LTE or VoLTE, is being deployed in South Korea and operators worldwide are watching closely how it fares there, said Peña.
Capability
"As simple as it may sound, not all LTE operators are capable of supporting voice and text. It takes much more than just having both an LTE and a 3G network," Peña said in a press statement issued yesterday.
"We are now in a position to offer not only high-speed data services on our LTE network, but also seamless voice and SMS services," he said.
Tamayo said, "The objective of Smart is to provide broadband for all, whether wired or wireless and this is another step to that."
"On top of our high-speed connectivity, the basic of voice and SMS is there. It's completing our services on the high speed network," Tamayo said.
Smart said the LTE data service will be made available using pocket Wi-Fi devices that will enable non-LTE phones, tablets, laptops and even "smart" appliances to access the high-speed broadband service.
Max is a journalist and blogger based in Cebu. He has written and edited for such publications as The Freeman, The Independent Post, Today, Sun.Star Cebu, Cebu Daily News, Philstar Life, and Rappler.
He is also a mobile app and web developer and co-founded InnoPub Media with his wife Marlen.