WHEN seven-year-old Ma. Gina Bea Ortiz speaks, it is with a shy whisper. And when she went to the middle of the room at the Friendly Waters school in Panglao Island in Bohol to read the story of the sun, which she wrote and illustrated, she could barely be heard without a microphone over the din of kids scampering in an indoor play area.
"It's useless," cried out a day care worker invited to the event last Saturday. The event was meant to raise funds to help day care centers in the island.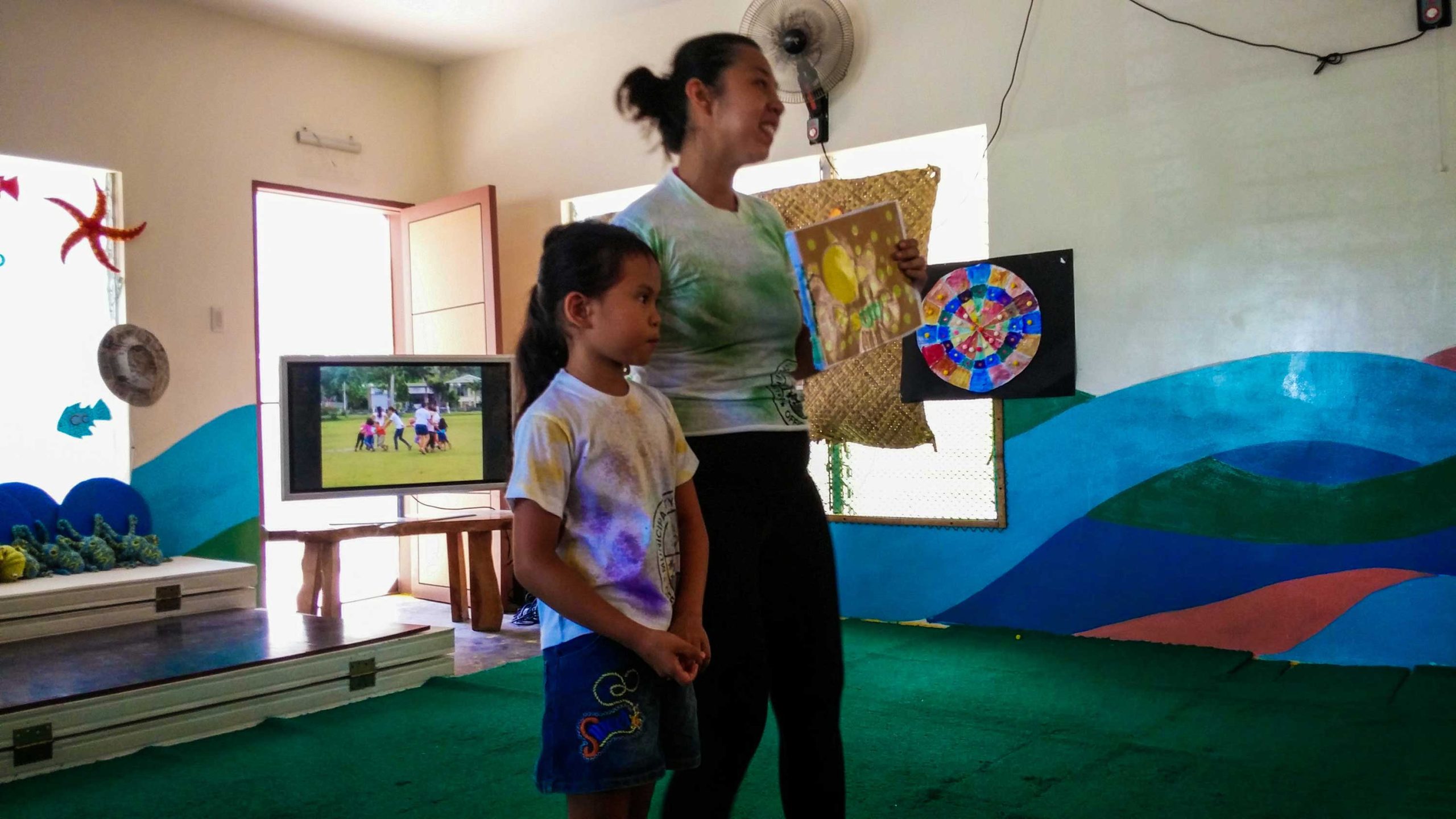 Clutching The Sun booklet she had been working on since Wednesday, Ortiz walked gingerly to her mother seated at the back of the room. She had read only the first line.
"Let her do it," said someone in the room.
The program continued while Ortiz, an incoming Grade 2 student in Tawala Elementary School, stayed at the back.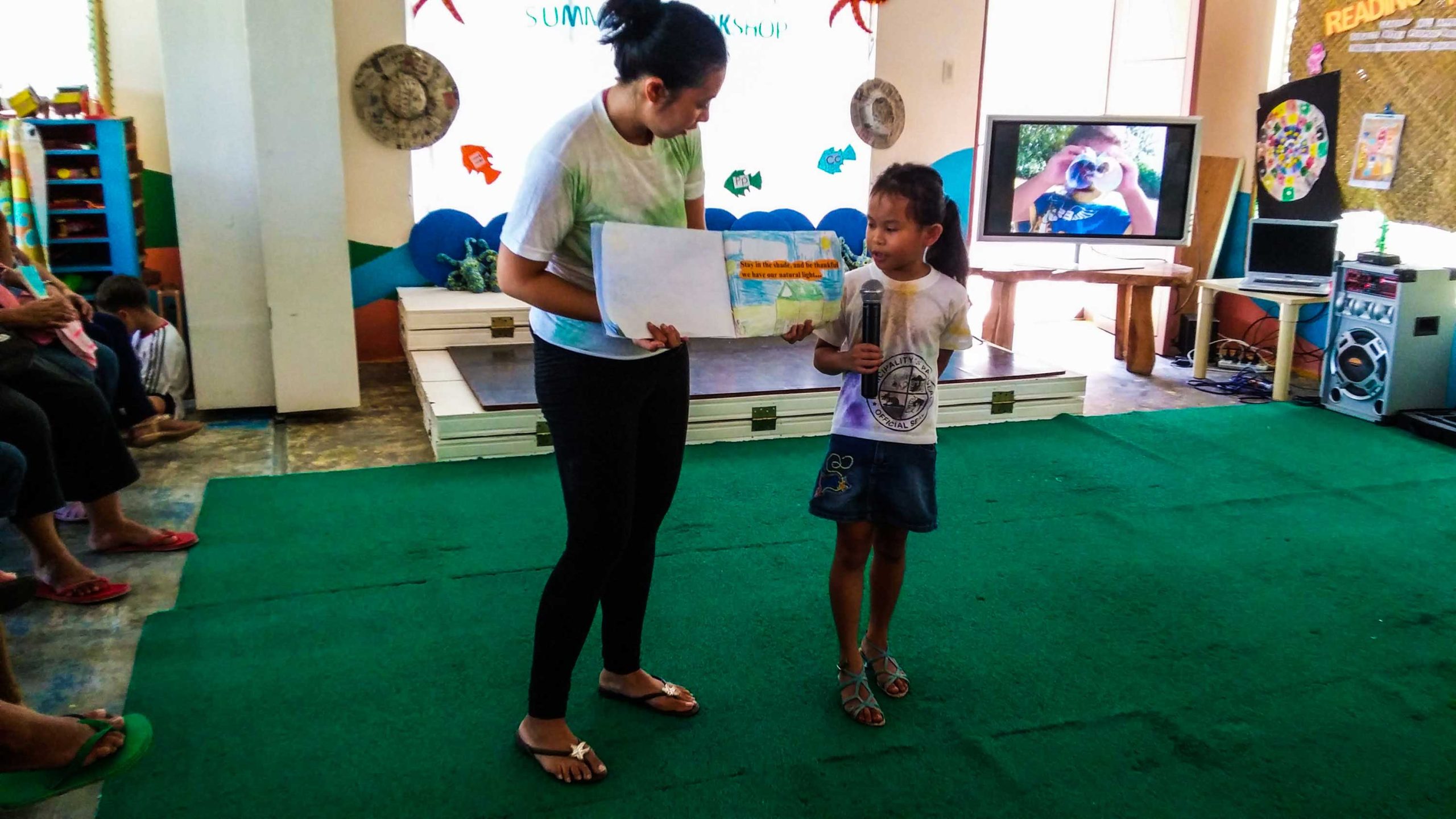 Several minutes later, the handing out of certificates to Panglao children who attended the summer programs of Friendly Waters and Steps or Specialized Training and Education for Pilipino Students was interrupted by the ear-splitting shriek of microphone feedback. Someone was able to get a working microphone from nearby and make it work with the school's audio system. Quite a few in the room turned to Ortiz.
"The Sun," said Ortiz, who was back in front a few minutes later. Assisted by Bettina Mancao Atwill, she told the story of the sun and of how we should take care when we're under it. Wear a hat, she said. When she finished the story, everyone applauded.
"It's not quite useless, after all," said a proud Bettina, who runs the school.
Ortiz and four of her friends were among those who completed the math and reading summer program conducted by Friendly Waters with Bettina and husband Geoff, missionary couple Emmanuel Gamonez and Eveline Hotz Gamonez, with the support of Bellevue Hotel.
Resort's support
Friendly Waters occupies a building constructed for the school by Bellevue Resort Bohol owner Johnny Chan. The school has been operating in the area for a year. Chan also pays for the salaries of teachers.
Friendly Waters takes paying students and subsidizes the free courses and sessions it offers children in the community under the Steps program. For this summer's sessions, the school had about 50 students. Some had dropped out after attending a few classes.
A few of the students are paying but most are sponsored.
Outside, Abegail Bitancor and her friends kept watch over a table of baskets and wallets that they created out of recycled newspaper and plastic. Bitancor and her friends were trained how to create handicraft from recycled materials and make money from these.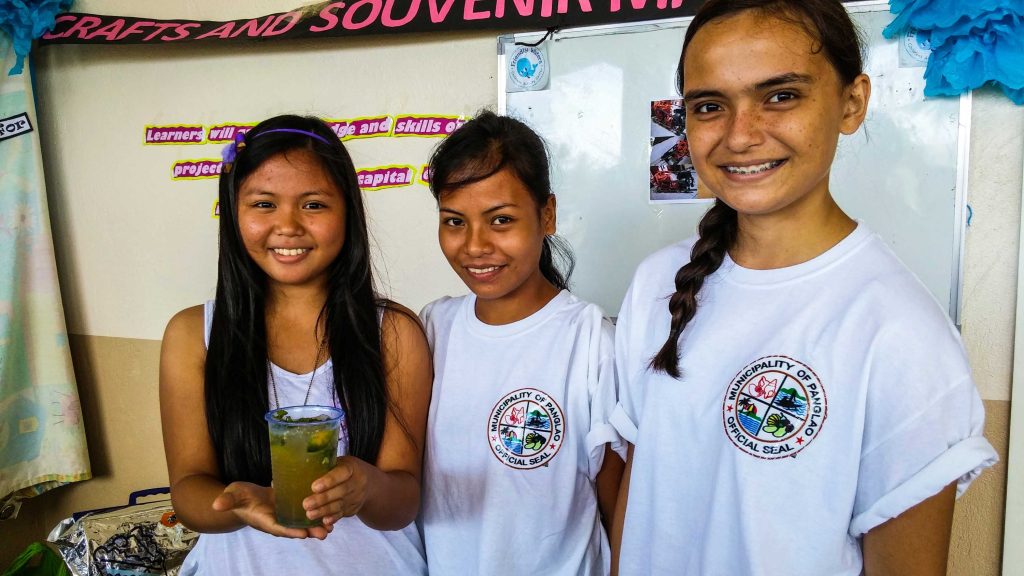 At a nearby table, Sheila Marie Fraser, Evelyn Tangcawan and Elvie May Sangan prepared non-alcoholic drinks to show off the hospitality 101 training they had under Geoff.
Slapping a sprig of mint to release its flavor and using a muddler to mash herbs and other ingredients, the three teenagers quickly mixed a glass of non-alcoholic mojito.
Geoff said that apart from teaching them how to prepare drinks and attend to guests, they were also taught how to be always on time, take orders and attend to guests. They were also taught how to prepare resumes. With Panglao being a resort town, the skills would help them get jobs in the many resorts in the area.
Aspirations
Saturday's event was the culmination of the weeks-long training on math, arts, reading and sports that Friendly Waters gave children of Panglao.
This June, the school will start offering regular classes. Geoff said they want it to be an international school offering programs that will be recognized abroad.
Bettina, in her speech at the start of Saturday's event, said it has been her long-time dream to start a school like what she's doing with Friendly Waters now. She said they have created their own early childhood development curriculum called Bubblers, which is patterned after an Australian program.
Volunteer Bethany Robinson was sent to Panglao to help with the Bubblers program and train the Panglao Day Care centers.
Bettina said they want to share the program with other schools and day care centers.
(This story was published on Sun.Star Cebu.)
Max is a journalist and blogger based in Cebu. He has written and edited for such publications as The Freeman, The Independent Post, Today, Sun.Star Cebu, Cebu Daily News, Philstar Life, and Rappler.
He is also a mobile app and web developer and co-founded InnoPub Media with his wife Marlen.