EACH November, I'd eagerly start my annual search for the next year's planner. It is a circuitous process that almost always ends the same way each year—I'd drool over one planner after the other, go on coffee binges to collect stickers for a free diary, and end up buying a Moleskine.
I've been regularly trying and experimenting with online calendars and task managers for years but never got around to using one for long, back when the only interface was a Web browser and you needed to have an Internet connection to be able to use the system.
Paper was more efficient, apart from being more beautiful.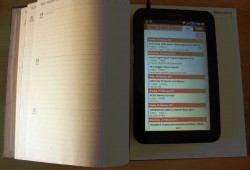 Last year, however, I started to gradually shift from using paper planners to online calendar services and a mobile phone.
I started with Nokia Ovi using my trustworthy-but-now-gone Nokia E63. If you have a Nokia phone, you have to use it with Ovi, a suite of online services that allow you to manage your phone's calendar and contacts from the Web. Although I repeatedly encountered downtimes and syncing problems with Nokia Ovi last year, I found it useful enough that I migrated my office tasks and even marathon training schedule to the service.
With Ovi, you could enter tasks on the Web, set reminder settings and then have all these downloaded to your phone. Close to the end of last year, the service started allowing the sharing of calendar tasks and I was about to test it with the Sun.Star Cebu business section team when I lost my phone.
Then I got an Android phone.
Android is a mobile phone operating system developed by Google. It is the software that runs on phones manufactured by such companies as HTC, Samsung, LG, Sony Ericsson, and Motorola. Even low-cost Cherry Mobile has an Android device.
With Google as lead developer, Android has seamless integration with some of its services, especially Gmail and Google Calendars. In fact, you need a GMail account to activate your phone and use its advance features.
The Google Calendar-Android integration is a gift from mobile tech heaven. If you set it up, two-way synchronization is almost flawless. You can enter a calendar item on the web, set up events data and define alert notification options and have these downloaded to your phone automatically. In sharp contrast, each time I entered a calendar event in the Ovi website, I had to manually trigger the synchronization of my mobile phone calendar.
The killer feature in Google Calendar, for me, is the ability to share events with other people. I maintain several calendars shared with different sets of people I work and collaborate with.
My Sun.Star Cebu business section calendar is shared with business reporters and our paper's editor-in-chief. We used to keep track of events using a planner that had pages stuffed with faxes and event invitations. Not anymore.
Anytime one of the business reporters gets an invitation or schedules an interview, she can just add it to our shared calendar and I immediately get alerted to it on my phone (they're still using Nokia units and I still couldn't find a way for either Ovi or their phones to import Google Calendar events).
I also maintain a separate Google Calendar for Cebu running events, which is shared with race organizers. Anytime an organizer schedules an event, he or she can just add it to the calendar and the event is sent to my phone, to the CebuRunning.com website listing of race schedules and to the Android application I created to display running events in the province.
Apart from event details as date and time of the run, the listings also contain such data as registration fees and the race route.
But apart from these fantastic features, what really sets the Google Calendar-Android integration system apart from other systems is the mobile interface. It's so much easier to enter events details on your Android phone. If you don't have Internet connection at the time that you entered your event on the phone, the system will just synchronize the data the next time it gets connected.
What also great is that if you keep two Android phones, you can synchronize the different mobile calendars and data by using the same GMail account.
Max is a journalist and blogger based in Cebu. He has written and edited for such publications as The Freeman, The Independent Post, Today, Sun.Star Cebu, Cebu Daily News, Philstar Life, and Rappler.
He is also a mobile app and web developer and co-founded InnoPub Media with his wife Marlen.