She died with her running clothes on.
That phrase got stuck in my mind after I called up Sun.Star reporter Davinci Maru Sunday to tell him that one of the victims of the massacre he was covering was an ultra-runner held in high regard by the local running community.
News had spread of Melinda Ponce's gruesome killing through a shocked running community early Sunday morning. I woke up to find 18 text messages and seven missed calls — a portent of urgent, breaking news.
The text messages bore the same horrible news: ultra-runner Melinda Ponce was killed with her child.
The reality, however, was even more terrible. Melinda was killed with three of her children and her helper by her husband, who then shot himself. Melinda and the kids were shot in the head, Maru told me.
She wore running clothes, Maru answered when I asked him to check with police what Melinda was wearing. It was, after all, a Sunday — a day that is sure to find Melinda on the road.
Melinda's running story is a big inspiration for weekend athletes like me. Unlike full-time athletes who do nothing but train and prepare for races, Melinda was a regular working person holding a full-time job and raising a family.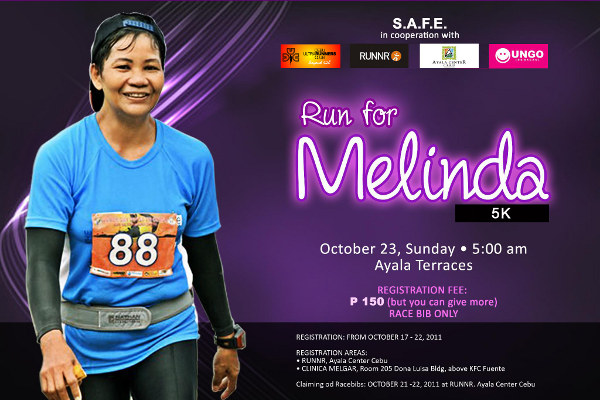 The stories of domestic violence and abuse that have come out in news stories recently provide, in hindsight, context to what turned out to be an even more difficult life. Running, I'm sure, provided her the needed refuge apart from physical well-being.
It's never too late to start running, Melinda told members of the Ungo Runners, a group that runs on the streets of Cebu City every Friday night, during her talk last Sept. 30. Melinda started running only at 48, a year after undergoing total hysterectomy.
She went through worse things than what regular runners experienced as she pushed herself to her physical limits. "Niagi na ko ana, ni-graduate na ko ana. Collapse, pag abot sa finish line nag-barag barag na. Di na ko (I've experienced those things. I once collapsed at the finish line. I don't want to experience it again)," she said with a chuckle. Runners should learn to take care of their health, she quickly added.
Five years and one mild stroke after she started running, Ponce would emerge the fastest woman ultra-runner in Cebu, winning successive 53K and 60K events.
Ponce had qualified for the national finals of the Milo Marathon and she had intended to run it later this year. She qualified last year but did not run in order to join the first ultra-marathon in Cebu, a 50K run from Mt. Manunggal to Capitol in Cebu City.
Ponce inspired many local runners and the community has come together to run in her honor. On Sunday, the Cebu running community will hold a run in The Terraces in Ayala Center Cebu to honor Melinda and raise funds for her sole surviving child. In Manila, runners will also run in her honor at the Bonifacio Global City. On Friday, Ungo Runners will dedicate their regular Friday Night Run to Melinda and will run from Ayala Center Cebu to St. Peter Chapel on New Imus Road.
Ponce told Ungo Runnners during her talk that her lifetime dream was to run until she is "already a senior citizen."
Alas, that was not to be.
Last Sunday, Melinda Ponce died with her running clothes on.
Max is a journalist and blogger based in Cebu. He has written and edited for such publications as The Freeman, The Independent Post, Today, Sun.Star Cebu, Cebu Daily News, Philstar Life, and Rappler.
He is also a mobile app and web developer and co-founded InnoPub Media with his wife Marlen.