(In a meeting at the height of lockdowns last year, Cebu Gov. Gwendolyn Garcia summed up the high-strung atmosphere when she shared what she observed while going all over the province. She described how people were taking it upon themselves to set up checkpoints and "were not very courteous."
"You will be treated like a leper if you are from Cebu City," she said. Cases had spiked, especially in Barrio Luz in Cebu City, which was under strict lockdown.
This is an account of what happened in our subdivision in Barangay Pajac, Lapu-Lapu City on April 21, 2020.)
A military jeep is headed to the main gate, Marlen texted me during this afternoon's run. A misspelling betrayed her urgency to send the message. I was on an afternoon jog on the deserted streets of our subdivision when I got the message.
I barely finished reading it when they passed me, an Army vehicle driven by a stern soldier in military fatigues. It had a machine gun mount but without an attached gun.
Following behind on a motorcycle was our association president Dave, a body builder who now teaches zumba. He used to bulge with muscles but has since deflated into a regular hunk.
I sent a terse reply "kita ko" (I saw them) before going after the convoy. I ran to the main gate ready to make a quick stop and walk in case the authorities were in the process of implementing a strict lockdown and would be going after joggers.
I arrived at the main gate in the middle of an argument among Dave, an old man with a cloth mask worn askew, and the stern looking soldier. There were several others at a safe social distance.
"Nganong inyong gibuhian?" (Why did you let them go?) the soldier barked in the direction of Dave and the two barangay tanods manning our gates. "Og hold gani, i hold nato. Gusto mo i total lockdown dinhi, dili mo tanan kagawas? Madamay man gyud mo ba." (When we say hold, you hold them. Do you want a total lockdown? You'll be implicated in this.)
They were pursuing a silver Toyota Vios reported to be carrying someone from Barrio Luz. The sector representative sent out the alert and the car was stopped at the gate before one of the tanods let them leave.
The soldier angrily took the details about the car from the tanods and forwarded it to someone, saying aloud that they hoped it could be intercepted by other units.
"Og mag suroy suroy to dinhi sa Lapu-Lapu, og mutago kay di kalusot sa bridge?" the soldier continued in a loud voice. (What if they go around Lapu-Lapu, what if they try to hide when they can't get through the bridge?"
"Unsa man laki bayi?" the soldier asked. (Were they men or women?)
"Mga bayot!" the tanod spat out. (Gays!)
"Pesti gyud ning mga bayot," the soldier seethed through gritted teeth as he again checked his phone. (Curse these gays.)
His anger was palpable that I would tell Marlen later, "sus og naabtan pa to, mapusilan man gyud to ba." (Had they caught up with them, they would have been shot.)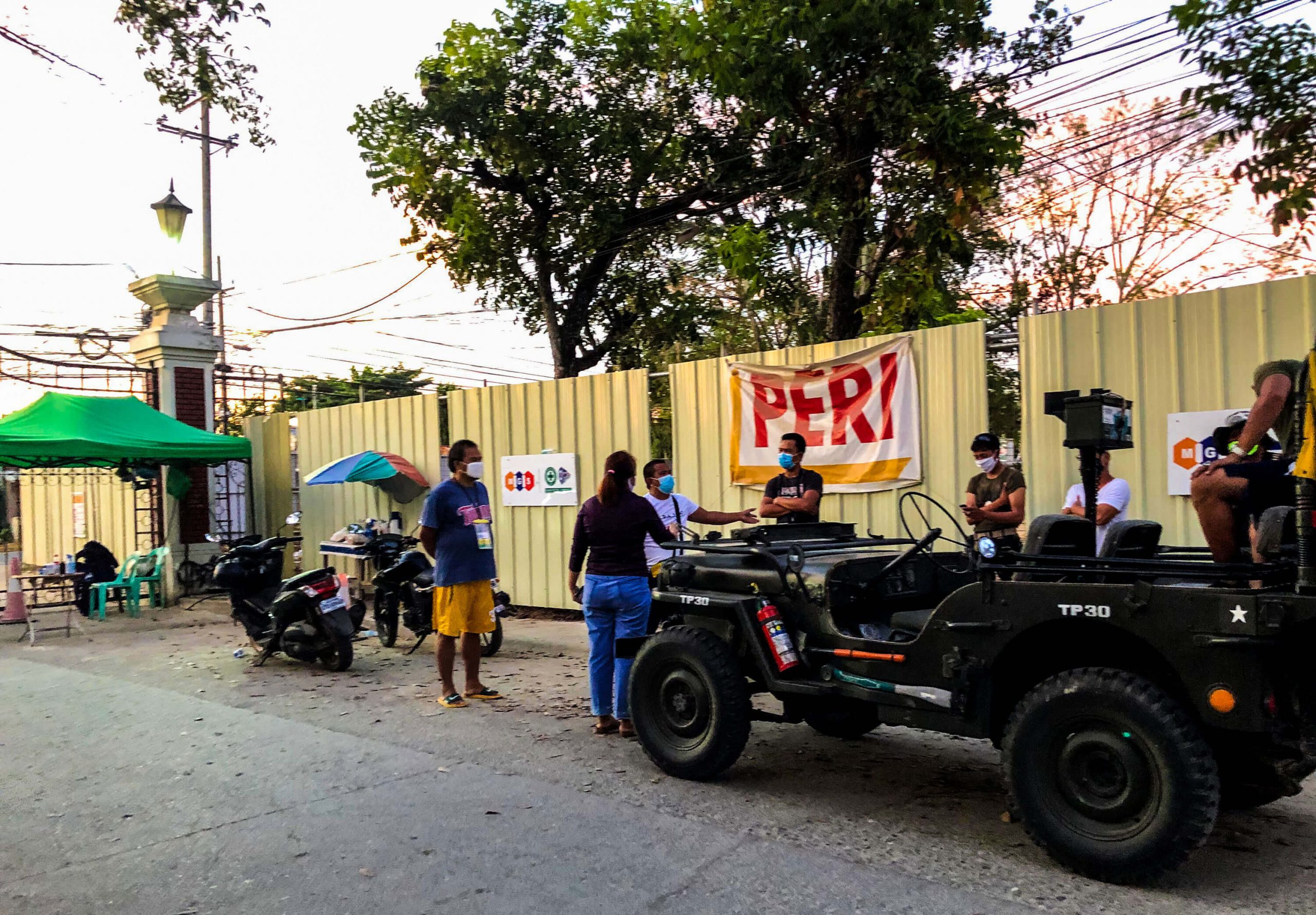 While this was happening, Dave and the old man were also arguing over how the gate was being secured. The old man, I would know later as Jerry Tongol, was a barangay official who lived in our subdivision but did not join the association. He was telling the soldiers that security at the gate was lax. "di sila mu inspection og klaro. Pasudlon nila ang walay helmet." (They are not thorough in their inspection. They let people in, even those not wearing helmets.)
"Unya na na ang atong issue," Dave raised his voice at the old man. "Ato sa ni klarohon." (Let's set aside our issue. Let's settle this one first.)
"Unsa man gyud ni inyong lugar, Pajac o Bankal?" the soldier asked Dave. (Where do you belong to, Pajac or Bankal?) Camella straddles the two barangays and Dave explained that to him.
"Dili. Usa lang. Mangutana ko Pajac o Bankal?" the soldier asked again. (No. Just pick one. Now I'm asking you, Pajac or Bankal?)
One of the companions of the soldier was apparently an official from Pajac and spoke out after telling Dave to shut up. They kept on interrupting Dave whenever he tried to explain something.
Apparently, the entire area was now under Pajac, including where the gate was, which we've always known as being part of Bankal.
Ever since Vista Land started building a community mall, Bankal now wanted the territory back. For taxes, he grumbled, while asking those gathered: "kinsay mukuha sa inyong basura, og naay problema kinsa may mu atiman?" (Who collects your garbage? If you have problems, who deals with them?)
They didn't mind me and after following a 30-meter running loop I gave up pretending to be jogging and just gawked at them: the soldier still on the phone, Dave and the tanods talking to each other, the old man still grumbling about how our subdivision is run.
The two guards that secured the construction site sat in uncustomary silence. They usually joked around or else one would belt out a Tagalog song in a voice good enough to earn cheers and shouts of "more" in a neighborhood karaoke.
Another vehicle arrived and from it emerged two officials of the association. The female approached the group and immediately scolded Tongol. She told the soldiers not to listen to him and that the issue has already been raised to Lapu-Lapu City Mayor Ahong Chan.
Her arrival and air of authority eased the tension. The stern-looking soldier kept to the side, putting the Army vehicle between him and the association official. They talked for several more minutes and after she kept saying Mayor Chan was informed of our subdivision issue they broke up.
(I asked Dave a few days later whom the authorities were pursuing, he prefaced his answer with a dismissive "ay sus" before explaining that the person was a worker of an office a couple of blocks away from Barrio Luz. He went with his friend to our subdivision and they were let in. Apparently somebody texted someone that a person from Barrio Luz was able to enter our place. That ignited the wildfire.)
Max is a journalist and blogger based in Cebu. He has written and edited for such publications as The Freeman, The Independent Post, Today, Sun.Star Cebu, Cebu Daily News, Philstar Life, and Rappler.
He is also a mobile app and web developer and co-founded InnoPub Media with his wife Marlen.