Lapu-Lapu City Mayor Paz Radaza will be giving her State Of The City Address in Hoops Dome in Lapu-Lapu City this morning. What's different about her speech today — from her previous ones and from the speeches local government executives have been giving and will be giving this month — is its digital twist — the speech can be downloaded as an e-book via phone scanning at the venue.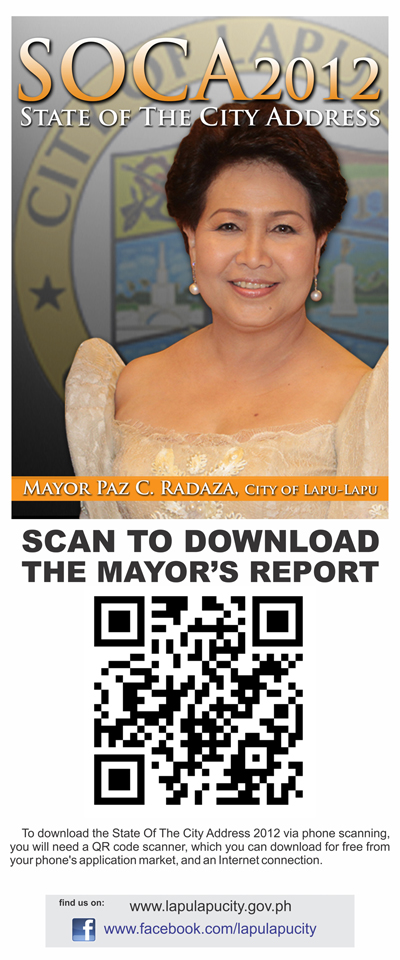 Radaza's team at City Hall asked InnoPub Media, the journalism start-up I co-founded with my wife, Marlen, to set up a system that will allow the City Government to offer the mayor's speech as a downloadable report.
InnoPub created the e-book (which you can download directly here) and set up a download system via QR or quick response code scanning.
Lapu-Lapu City will also launch today it's own version of "A Guide To Cebu 2012," the electronic guidebook on Cebu published by InnoPub Media with the strong support of Smart Communications, Inc. and partners like Ayala Center Cebu, Marco Polo Plaza Cebu, The Islands Group, Department of Tourism, Cebu City Government, among other partners.
The downloadable e-books are just the start of digital initiatives in Lapu-Lapu City. More initiatives done in partnership with InnoPub Media will be announced in the coming days.
Max is a journalist and blogger based in Cebu. He has written and edited for such publications as The Freeman, The Independent Post, Today, Sun.Star Cebu, Cebu Daily News, Philstar Life, and Rappler.
He is also a mobile app and web developer and co-founded InnoPub Media with his wife Marlen.