Authorities arrested artist Maria Victoria Beltran yesterday over allegations of spreading "fake news" when she posted on Facebook that there were 9,000 new COVID-19 cases in Zapatera, making Cebu City "the epicenter in the whole Solar System."
The post is clearly satirical with its galactic reference. But the point of contention and the crux of the case against her is the claim of 9,000 new COVID-19 cases in the city.
What can be inferred from the turn of events and chain of posts is that she based it on news reports quoting health officials as saying the entire sitio was deemed "infected."
The Freeman, for example, quoted Cebu City Health Officer Daisy Villa as saying this of Sitio Zapatera in Barangay Luz "the whole area is already considered as infected." (Emphasis mine) The article was bannered by The Freeman's print edition.
Sun.Star Cebu also reported that "Villa said the Department of Health (DOH) Central Visayas has advised the CHD to stop swab testing in Sitio Zapatera as the whole area is now considered to be infected." (Emphasis mine)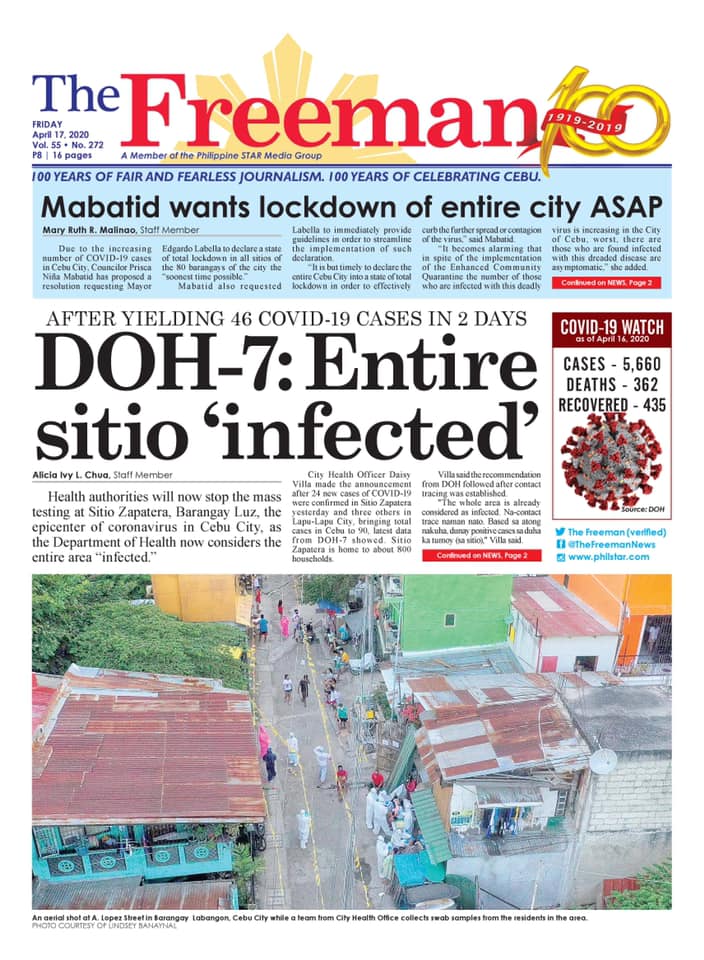 Apparently based on those statements and the fact that the sitio was listed to have about 9,000 residents, Beltran wrote her post.
Was she wrong? Yes.
Dr. Jerald Garcia wrote a Facebook post that clarifies the statement in ways that the news reports on Villa's pronouncement did not: "presumed infected" is a public health strategy and not a clinical diagnosis that adds up to the national COVID-19 tally.
Garcia's post also exposes weak reporting on the issue. Why didn't journalists ask Villa to expound on her statement? What's the implication of their decision on the case tracking? It's not in the stories.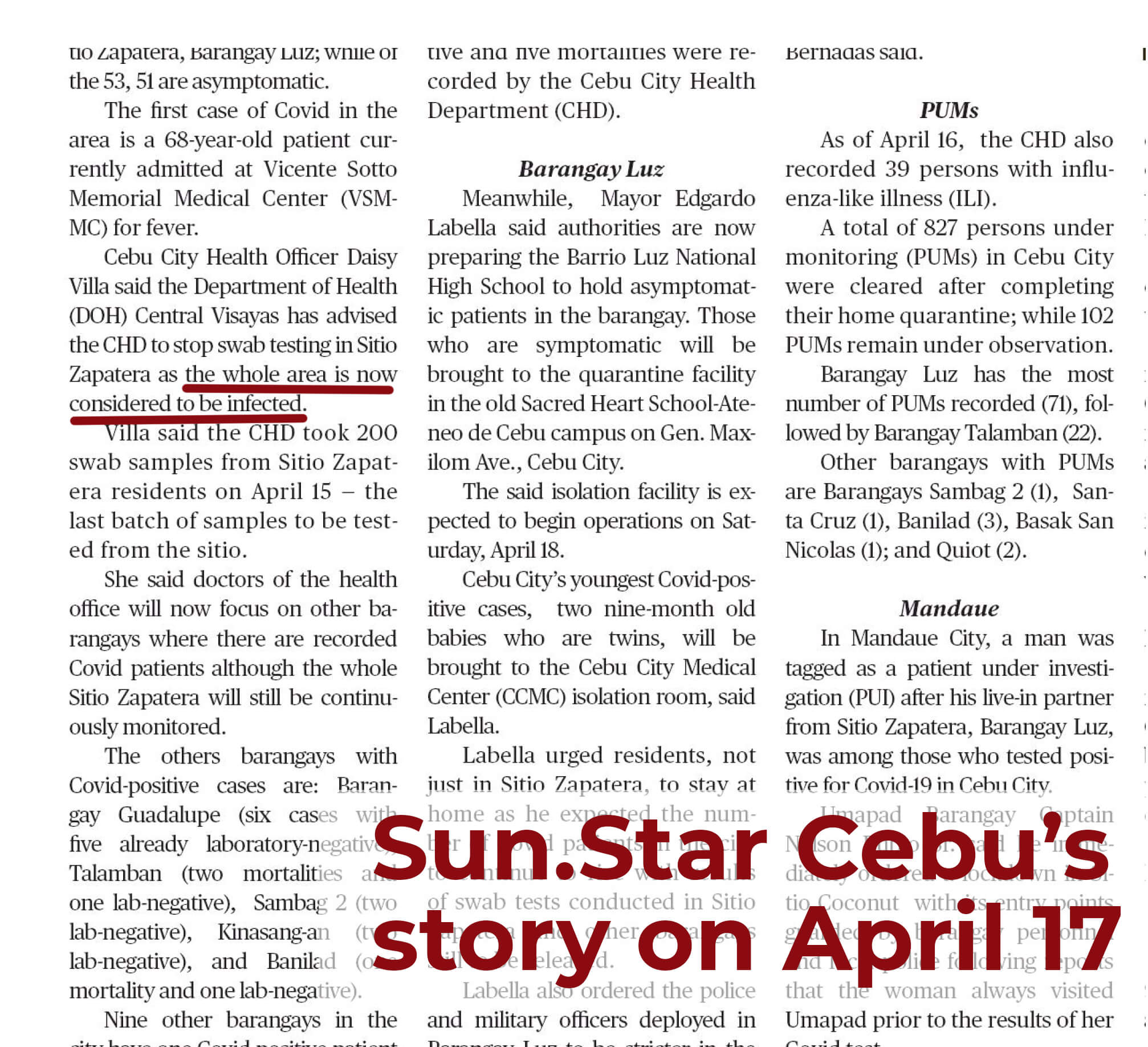 But did Beltran create or spread "fake news?" No.
Fake news, as journalists and the news industry understand it to be, is deliberate disinformation. It's more than just a mistake in the reporting or the interpretation of the data, it is a fabrication. For whatever end – to further a political agenda, to make money, to have some fun at the expense of other people.
That distinction is important because the steps needed to fight disinformation – infodemic is what they call it – are different and more urgent than what are required to correct errors and deal with criticisms.
The distinction is also important because Mayor Edgardo Labella heads a city hall that earlier dismissed what is apparently a draft order released prematurely as "fake news." It wasn't. It was an unauthorized and premature release of a draft document.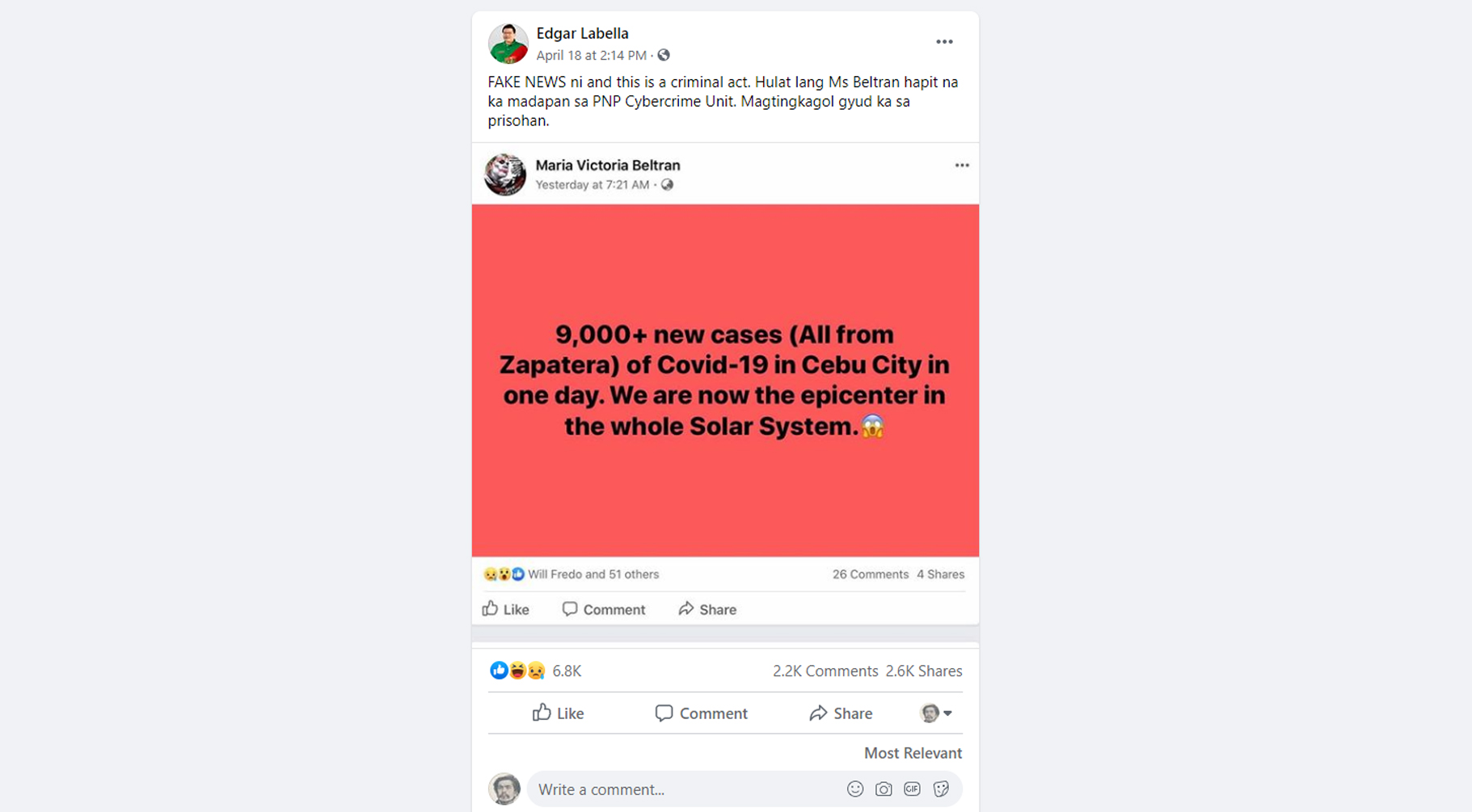 But rather than stepping forward and exercising his leadership role to correct and enlighten people about a statement by his chief health officer, Labella chose to make an example of Beltran.
The more sensible and effective thing to do would have been to explain why the presumption of infection and a strategy of containment were the best answers to the situation in Barrio Luz. It could have been done with a short video, Facebook Live or a late upload, on his page.
Doing so would have assuaged other people. I mean, how do you react to reports that health authorities would stop testing and consider a community of about 9,000 people "infected?"
For me, I felt imminent doom. If there's rapid community transmission in such a small place, the cases are sure to multiply exponentially. A discussion with a fraternity brod strayed toward buying guns. Ms. Beltran, meanwhile, wrote that post that got her into trouble.
Authorities arrested Beltran on a Sunday and, according to her lawyer, without a warrant. I suppose they deem it that urgent they couldn't wait for Monday.
Max is a journalist and blogger based in Cebu. He has written and edited for such publications as The Freeman, The Independent Post, Today, Sun.Star Cebu, Cebu Daily News, Philstar Life, and Rappler.
He is also a mobile app and web developer and co-founded InnoPub Media with his wife Marlen.