Apple announced last week that the next version of its operating system (OS) will incorporate features first introduced in the iPhone and iPad "re-imagined for the Mac."
OSX Mountain Lion, which is scheduled for release later this year, will have Notification Center, iCloud integration, Reminders, Notes, Game Center and Messages — features that are currently on its mobile phones and tablets.
"We see that people are in love with a lot of the apps and functionality here," Apple chief executive Tim Cook told the Wall Street Journal in an interview, pointing at his iPhone. "So, anywhere where it makes sense, we are going to move that over to Mac."
One of the things to look forward to in the new OS is the integration of Reminders and its working with the cloud. Items you add in Reminders in OS X will be added to your Reminders in your iPhone or iPad. This would be a great way to centralize to-do lists.
But what's really exciting about the new OS is the packaging of iMessage, which was introduced last year with iOS 5 for iPhone and iPad, into Messages for the Mac to replace iChat. With the application, you can now send from your Mac messages to iPhones and iPads.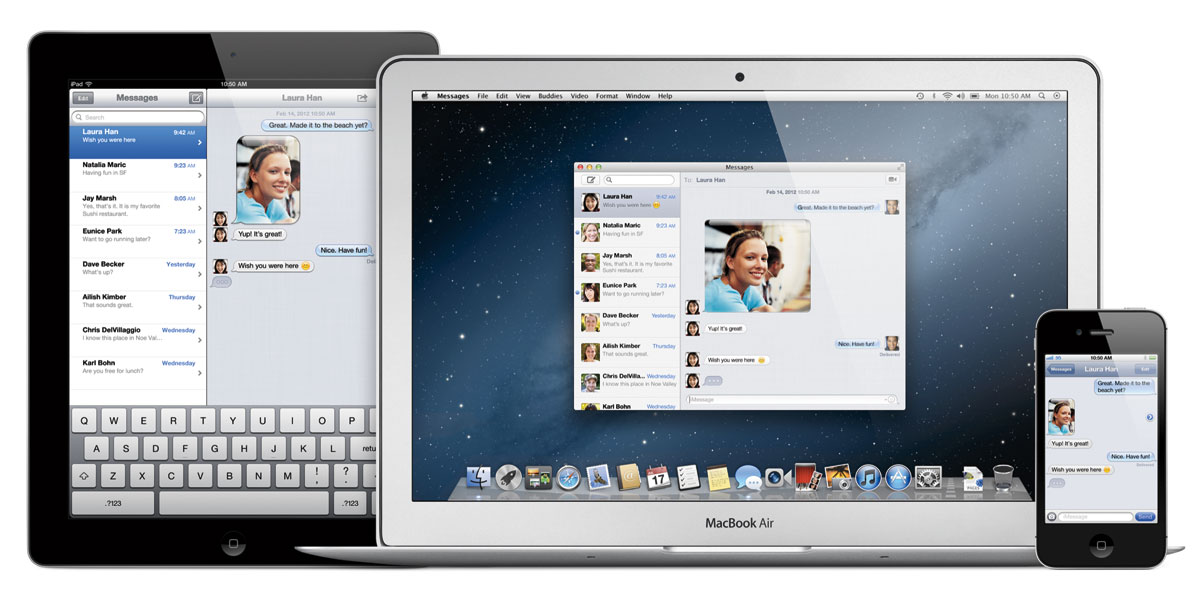 Download Messages beta
Mac users don't have to wait for the new OS to use Messages, they can now download a beta or test software at the Apple website.
I tried Messages out in a cursory test the past couple of days and I was able to send messages to three people I knew who were using iMessage either on an iPhone or iPad. It worked as advertised — I started typing the message on a Mac and could continue the exchange on the iPhone.
But I read in some blogs, however, that some people using multiple addresses (e-mail and phone number) to receive iMessages had problems on where messages ended up. One suggestion for those having this problem was to indicate their e-mail as caller ID for iMessage.
There aren't indications yet that Apple would release a Windows version of Messages. It's not hard to imagine they would.
The release may prove to be the beginning of the long goodbye to SMS. It is naive to think SMS is going out anytime soon but it is equally naive not to see the trend of our core messaging migrating to Internet Protocol (IP). Mobile broadband is increasingly becoming ubiquitous and pretty soon it will be easier and cheaper to be connected to the Internet at all times through your mobile device.
I've been using iMessage on the iPhone for weeks and the experience has been generally excellent. When I send an SMS, the system detects whether the recipient of the message uses an iPhone and then decides whether to send that text message as an iMessage.
When iMessage was announced, many in the technology sector pronounced that the death of SMS was near. Messages will only bring that closer.
While Messages on OS X still needs work (it is, after all, a beta software) the cross-platform capability points the way forward to our communications future.
Cross-platform
By all indications, SMS will eventually be replaced by richer and cross-platform messaging apps that work with the cloud. You send a message with your phone, continue the thread in your tablet and hold a video conference on your computer seamlessly, with the messages synchronized across devices through cloud storage.
There are currently a lot of options for IP-based messaging with apps like Kik, WhatsApp, Viber, Pingchat available for free in various devices. These are on top of instant messaging services like Google Talk and Yahoo! Messenger that have very robust mobile support.
But the experience offered by the cross-platform capability of Messages and iMessages is far superior.
If there's a company that can answer this new messaging platform of Apple, it is Google. The search giant can easily counter Apple's capability by integrating its Google Talk instant messaging service into Android's Messaging application.
One Web giant, however, will play a key role in these new communications platforms: Facebook. The social networking leader already has mobile messaging capability with its Messenger app. There have been persistent talks that Facebook will eventually create its own phone. If it does, it would sport a Web-native way of sending messages.
The platform that can work with Facebook will have a key advantage in this new messaging environment.
Max is a journalist and blogger based in Cebu. He has written and edited for such publications as The Freeman, The Independent Post, Today, Sun.Star Cebu, Cebu Daily News, Philstar Life, and Rappler.
He is also a mobile app and web developer and co-founded InnoPub Media with his wife Marlen.