The accusation published by Manila Bulletin that singer Moira dela Torre was paid P5 million to perform at a Leni-Kiko campaign rally is an example of what journalist Nick Davies described in his book Flat Earth News as "churnalism." It is described in the book Breaking News by Alan Rusbridger as "reporters with too little time pumping out material they had not sufficiently researched." Davies' book was published in 2008 and the practice has worsened since.
I checked and it seems that the sole source of the Manila Bulletin story is a comment thread on a post by dela Torre announcing that she was performing during the Leni campaign event in Zamboanga City.
A Facebook account named Mind Sheep, described in its page as a blogger but with no identifying information and linked to an expired domain, left a comment "GG, 1 to 5million per artist offer." Dela Torre answered the comment with "hindi po kami bayad. Nag-volunteer lang din po kami."
That exchange is amplified into a serious accusation as a news article on the Manila Bulletin website.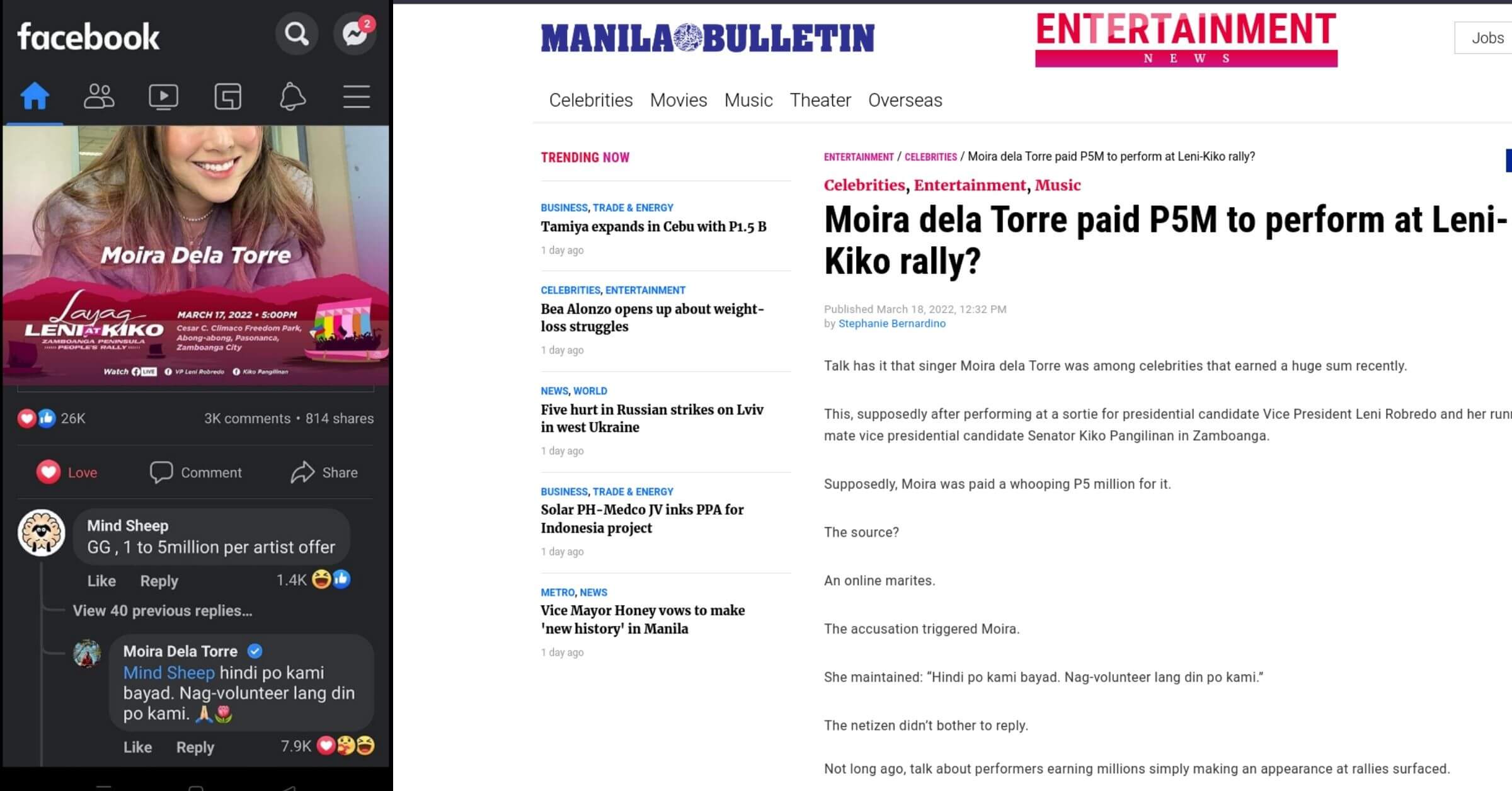 I don't know if the article was published in the print edition – but in the printed newspaper, you have visual cues that hint whether an article is serious or a piece of gossip in the Entertainment section. The article is likely that – a silly tsismis about celebrities on the Entertainment page and will be laid out differently and in different sections from the news stories.
Online, however, articles look the same. News stories of national importance are laid out the same way as silly articles meant to bait clicks as part of traffic whoring tactics.
But look at how serious the accusation came out from such a silly source: an obscure page with no identifying information. And the charge was that artists were offered P1 million to P5 million – that the article picked up the higher amount tells you the motive of the writer Stephanie Bernardino. The writer was out for scandal. Bernardino also wrote the most improbable combination of sentences in journalism: "The source? An online marites."
I wrote about this in an earlier blog post: How not to write a news story: Manila Bulletin and "online marites" as source
This is how churnalism works: churning out the maximum number of stories from the least effort with no field work and as little journalism as possible.
This isn't the journalism of speaking truth to power. This is churnalism that gives power to untruths.
Max is a journalist and blogger based in Cebu. He has written and edited for such publications as The Freeman, The Independent Post, Today, Sun.Star Cebu, Cebu Daily News, Philstar Life, and Rappler.
He is also a mobile app and web developer and co-founded InnoPub Media with his wife Marlen.